Former Belfast Giants owner inducted into Hall of Fame
Last updated on .From the section Ice hockey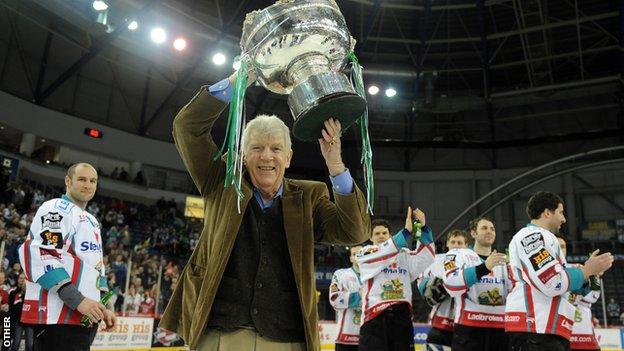 Former Belfast Giants owner Jim Gillespie is to be inducted into the British Ice Hockey Hall of Fame.
Gillespie, who saved the Giants from collapse in 2003, is being recognised for services to the sport in NI.
During his ten years of involvement, the Giants won two league titles, two play-off championships, one knock out cup and one Challenge Cup.
"Simply put, Jim Gillespie is the reason this team exists today," said former General Manager Todd Kelman.
Gillespie saved the Giants from collapse at the end of the Superleague era in 2003 and steered the franchise throughout the first decade in the Elite League.
Kelman paid tribute to the legacy of Jim Gillespie and said: "there would not be a Belfast Giants if it was not for him".
"The Giants are something that Northern Ireland, and Belfast, need and Jim always recognised that we were much more than a professional sports team here in Belfast," said Kelman.
"He understood, and made sure that we all understood, that we were much more important off the ice to the people of Northern Ireland than we were on the ice.
"Jim's commitment to the Giants was always done for the right reasons, even when the financial burden was heavy.
"He ensured we survived because he saw the bigger picture, and what the Giants meant to the people of Northern Ireland.
"The cross community appeal the Giants have in Belfast was central to why he got involved, and stayed involved."