Coventry Blaze chairman Andy Buxton denies exodus rumour
Last updated on .From the section Ice hockey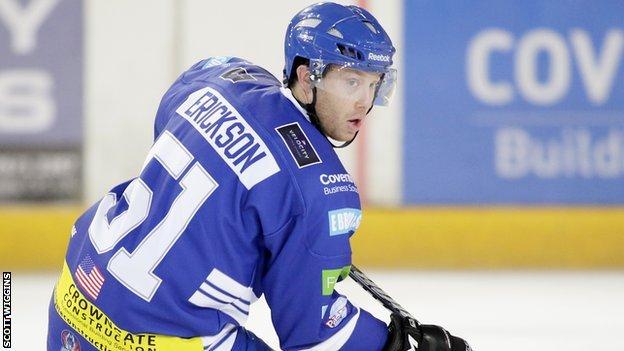 Coventry Blaze chairman Andy Buxton has scotched rumours that more of their star players are set to follow Sean Erickson by leaving the club.
The American defenceman returned home following Sunday's 5-2 win over Hull - just two months into the season.
His departure has led to rumours on social media sites of a further exodus.
But Buxton dismissed such talk, saying: "In this world of Twitter and Facebook a little thing gets blown out of proportion."
Speaking on BBC Coventry & Warwickshire's monthly programmeFace Off, Buxton declared: "Nobody has asked to leave and we've not asked anybody to leave.
"I can't really put it much clearer that that.
"I don't even know what's started the rumours. Some people like to embellish and make things up."
Buxton explained that Erickson had left Coventry simply because the 29-year-old from Minnesota could not settle.
"Not everybody's going to settle," said Buxton. "You come to a different country, you play a different style of hockey and it works out for a lot but it doesn't work out for some.
"It just didn't work out. There was no bad feeling. He's just taken the decision that he wants to return back home."
After a run of six consecutive defeats in October, Blaze have since bounced back by winning three of their last four games to climb to sixth in the Elite League.