Edinburgh Capitals end winless streak against Panthers
By Craig Anderson
BBC Scotland
Last updated on .From the section Ice hockey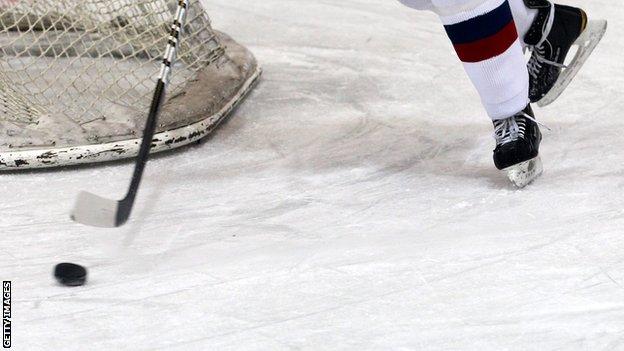 Edinburgh Capitals recorded their first win in 14 matches as they edged Nottingham Panthers 7-6 in overtime - but coach Richard Hartmann was not a happy man.
The Caps' victory on Sunday night stunned British ice hockey as Jade Portwood's penalty shot proved decisive.
But it wasn't enough to fully please his coach, who bemoaned his team throwing away leads at 4-0 and 5-2.
Hartmann said: "I'm really happy with the win, but as I look back at how the game went, I'm unhappy that we ended up having to fight for it in the end.
"We had the goals and had a big lead, but having the leads we had, it's not good enough and on the coaching side, we can't do that.
"I should be happy as we got the two points and I'm pleased we battled to get the win, but I'm disappointed at the coaching side that we let the Panthers back into it the way we did."
Tomas Horna's early goal was enough to take the Caps into the second period with a lead, which was added to by a Marcis Zembergs double and one from Curtis Leinweber.
Tom Norton and Joe Jensen reduced Panthers' arrears to two until Peter Holecko made it 5-2 after two periods.
Never a team to lie down, the Panthers pulled level through Jonathan Boxill (two) and Chris Murray as Nottingham drew level at 5-5 with ten minutes to go.
Leinweber edged the Caps ahead again, with Jonathan Weaver cancelling out, but Jade Portwood struck with a penalty shot in overtime to seal a much needed win for Edinburgh.
Edinburgh's triumph came 24 hours after Fife had inflicted a 4-2 defeat over the Panthers on Saturday in a packed Fife Ice Arena.
Danny Stewart had cancelled out Jensen's opener for Panthers, but Matt Francis restored Nottingham's advantage going into the first break.
Kyle Horne struck with a rare goal to level again for the home team as the Panthers couldn't really find their stride.
Derek Roehl soon put the Flyers ahead at the end of the second period before Bobby Chaumont confirmed the win with an empty net goal.
Flyers though couldn't capitalise as they went down 6-3 to Dundee Stars as Jeff Hutchins' men kept second place in the Elite League, behind Belfast Giants.
In a frantic first period, Bobby Chaumont gave Fife the lead before Brock McPherson struck to level for the Stars.
Paul Swindlehurst and Billy Bagron added to Dundee's goals tally until Jordan Fulton pulled one back to make it 3-2 at the first break.
Roehl equalised for the visitors early in the second period before McPherson added Stars' fourth and fifth goals to clinch his hat-trick and effectively kill the game off.
Then Nico Sacchetti's late empty net goal proved the icing on the cake for the home side, with the Stars going top of the Gardiner Conference, just ahead of Braehead Clan, who had the weekend off.
Elite Ice Hockey League
Saturday
Fife Flyers 4-2 Nottingham Panthers
Sunday
Dundee Stars 6-3 Fife Flyers
Edinburgh Capitals 7-6 (OT) Nottingham Panthers