Nottingham Panthers: Joe Jensen hails 'do-or-die' victory
Last updated on .From the section Ice hockey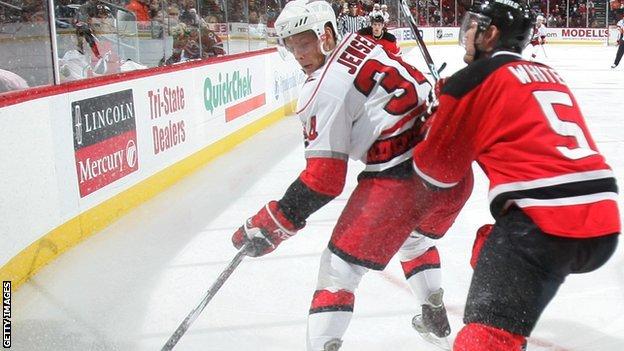 Nottingham Panthers forward Joe Jensen says the thumping win over arch-rivals Sheffield Steelers was a "do-or-die" victory after three consecutive losses.
Panthers were beaten by Steelers on Saturday, having lost previous Elite League games to Fife and Edinburgh.
But Matt Francis hit a hat-trick as Panthers scored five unanswered goals in the third period to win Sunday's feisty home game against Sheffield 6-1.
"It was a statement game for us," Jensen told BBC Radio Nottingham.
"This team doesn't lose that much in a row and four games would have been a streak. We had to break it so it was a do-or-die game for us.
"Winning in the fashion like this really helps your confidence."
Reigning champions Panthers, who are seven points adrift of league leaders Belfast but have three games in hand, had both Brent Henley and Tuuka Makela thrown out of the match.
Jensen, who joined Panthers last month, said he enjoyed his first experience of playing in a Panthers-Steelers contest.
"It's an intense rivalry," he added. "I have heard about if from a few guys that have played here and from Sheffield."