Scottish round-up: Coach bemoans leaky Edinburgh Capitals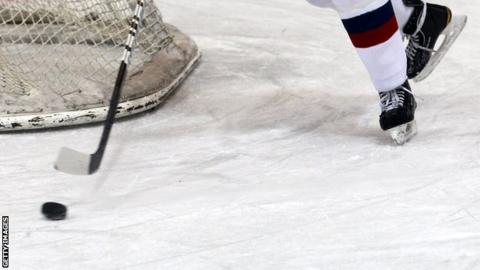 Edinburgh Capitals' player-coach Richard Hartmann bemoaned his side's defensive inadequacies after his team shipped 14 goals over the weekend.
The Murrayfield men lost seven at Hull Stingrays on Saturday then another seven at home to Braehead Clan on Sunday as they remain bottom of the table.
And the Slovakian was far from happy as his back line let him down once again over the two games.
"Our defensive side is not playing right now and isn't working like it should," he said. "We've been conceding lots of goals all season.
"If you need to score more than five goals to win the game frequently then you know you have a defensive issue.
"Every time we play, we can't find a level of consistency and just when it seems like things are going well, it gets spoiled and the momentum is gone."
In Hull on Saturday, it's probably fair to say Edinburgh were never in the game, as a four-goal salvo from Guillaume Doucet for the Stingrays effectively killed them off.
But back in Scotland's capital on Sunday, they looked good as they took a 3-1 lead over the Clan. However, a second-period collapse was their undoing.
Tomas Horna, Martin Cingel and Richard Hartmann had got them ahead, but a Joel Champagne double and single strikes from Shane Lust and Neil Trimm turned the game.
Matt Towe, another from Lust and a bullet strike from Aiden Fulton in the final minute clinched the points.
For Braehead, it was just what they needed after losing back-to-back matches with league leaders Belfast Giants away on Friday then at home on Saturday.
Towe scored the consolation against his old team in Northern Ireland on Friday as the Clan went down 4-1.
Back in Glasgow on Saturday, where the club achieved a sell-out crowd of 3,576 for the first time at Braehead Arena, Ash Goldie put the home side ahead but Giants' Dustin Whitecotton equalised shortly after.
Kevin Saurette and Gareth Roberts put the visitors 3-1 ahead only to be pegged back by Kevin Bergin and Tristan Harper.
Craig Peacock made it 4-3 Giants before two more from Bergin clinched his hat-trick as Clan went 5-4 in front. However, Saurette then Jeffrey Szwez clinched Belfast's 6-5 win.
Braehead coach Ryan Finnerty praised his team's mentality over what was a gruelling weekend and he also acknowledged the bumper support for his team.
"I was concerned about our energy levels going to Edinburgh after two tough games against Belfast," said Finnerty.
"But I changed some things around and the guys responded well to that. All in all it's been a tiring weekend for us mentally and physically.
"But you can't say enough about what the fans give us home and away. Getting a sell-out crowd for the first time in Braehead was great and my guys want to compete and win for them."
The only other games of the weekend brought old rivals Fife Flyers and Dundee Stars together for two meetings in quick succession.
It was the Stars who had bragging rights after beating the struggling Kirkcaldy side 4-1 in Fife then handing out a 4-2 loss on Tayside on Sunday.
In the first game, Paul Swindlehurst, Nico Sacchetti and Jerry Pollastrone had Dundee in a three-goal lead before Bobby Chaumont pulled one back for the Flyers in Saturday's meeting.
Sam McCluskey added a fourth for the Stars early in the third and it was more than enough as Dundee romped to victory.
Then on Sunday, Pollastrone and Bari McKenzie put the Stars two up before Chaumont was on target again, but John Dolan fired in Dundee's third.
Tim Hartung was on target for the visitors, but Sacchetti made sure of the points with an empty-net finish in the final minutes.
Weekend results
Friday
Belfast Giants 4-1 Braehead Clan
Saturday
Braehead Clan 5-6 Belfast Giants
Fife Flyers 1-4 Dundee Stars
Hull Stingrays 7-1 Edinburgh Capitals
Sunday
Dundee Stars 4-2 Fife Flyers
Edinburgh Capitals 3-7 Braehead Clan