Nottingham Panthers: Joe Grimaldi start impresses coach Neilson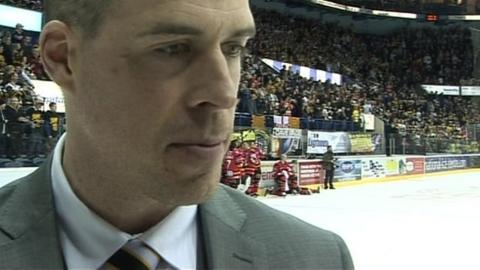 Nottingham Panthers coach Corey Neilson praised new defenceman Joe Grimaldi for making an immediate impact at the club.
The American-born 27-year-old was given his debut in the 5-3 victory over Coventry Blaze on New Year's Eve.
Neilson told BBC Radio Nottingham: "Looking at him out there, his skill level is fine, he moves the puck well, he skates well and he's aggressive.
"He has all the makings of a great player. I want guys to come in and compete, play hard and work hard."
Neilson was also keen to thank the Panthers administrative staff for pushing the deal through at short notice.
"I have to give the office staff, Neil Black and Gary Moran, credit for his signing. They worked very hard on Monday just to make sure it could happen with booking flights and so on," he said.
"There were a few other teams looking at him and he really wanted to come here. That says a lot for me. He has all the makings of a great player."