Dundee Stars can mix it with the best, says captain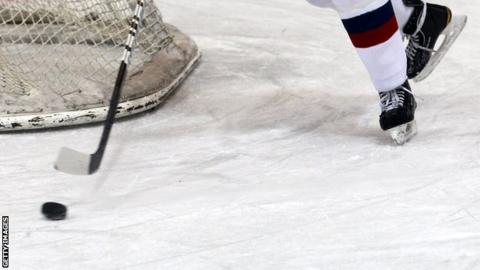 Dundee Stars captain Brock McPherson says his team do not fear the bigger teams in the Elite League after they clinched a full four points to go second in the table.
The Stars showed their Scottish rivals how to do it as they beat league leaders Belfast Giants and Braehead Clan to stay in the reckoning.
And the former Braehead man admitted his team were not at their best when they came back from 3-0 down against his former team to win 4-3 on Sunday.
"We played very well in Belfast, but perhaps not quite at our best against Braehead and we found a way. It shows the quality we have in this team," he said.
"The guys knew going into this weekend it was going to be a huge one so it was important we kept pace near the top and knew we had to get the two wins.
"We're not scared of the so-called bigger teams in this league. We've beaten them and for some, we're an unknown quantity, but we're sticking together and we believe we can do it."
In arguably the result of the weekend, the Stars travelled to Northern Ireland and plundered the points in overtime to win 3-2.
Jeffrey Szwez opened the scoring for the Giants, but McPherson and Rory Rawlyk turned the game in Dundee's favour.
Kevin Saurette's last-gasp leveller sent the game beyond regulation time as Belfast fought back, but Nikita Kashirsky popped up with the vital winner to clinch the points.
Full of confidence, the Stars returned to host Braehead Clan, who were still hurting from their 3-2 loss to Sheffield Steelers.
Former Star Tristan Harper opened the scoring for Braehead, followed by goals from Joel Champagne and Kevin Bergin as the visitors took a commanding lead.
Nico Saccheti pulled one back before the second interval to trigger the comeback with Sam McCluskey and Kashirsky achieving parity until Jerry Pollastrone's late dramatic winner.
For Clan, it summed up their weekend as they pulled themselves back from two down to Steelers in Glasgow 24 hours before, but eventually lost 3-2.
Drew Fata and Jonathan Phillips' goals were cancelled out by Ash Goldie and Joe Cullen for Braehead, but Stefan Meyer's winner proved decisive in the end.
Clan coach Finnerty criticised his team after a disappointing weekend, but has vowed to get to work with his players facing Nottingham Panthers on Wednesday night.
"We got what we deserved and it's rock bottom for this team right now," said Finnerty. "We've got some guys that need to take a long look in the mirror and understand their role.
"This is a time when we'll go to work and we'll go ready to play on Wednesday. We threw it away against Dundee and it's nothing we, the fans or the owners will accept.
"We'll get to the root of this problem and solve it. It's not going to be pretty or fun, but it's time to get to it and sort it out."
Meanwhile, Edinburgh Capitals pulled themselves off the bottom of the table with two big victories, taking maximum points from Fife Flyers then Coventry Blaze.
Caps' player-coach Richard Hartmann cancelled out Kyle Haines' early strike for Fife, which was added to by Marcis Zembergs and Martin Cingel to win the game in Kirkcaldy.
Then, on Sunday, Jade Portwood's decisive penalty shot was the difference as Edinburgh edged past Coventry Blaze in a tight game at Murrayfield.
Hartmann, Cingel and Jan Safar all found the net, but they kept getting pegged back through Blaze trio Kevin Harvey, Shea Guthrie and Ryan Ginand before Portwood settled things.
As for Fife Flyers though, it's four defeats in a row and they followed Saturday's home loss to Edinburgh with a narrow 5-4 defeat in Hull that sent them tumbling to the foot of the table.
Carl Lauzon's late winner for the Stingrays finished Todd Dutiaume's men off, despite Bobby Chaumont (twice), Derek Roehl and Kyle Haines getting them level at one point.
Next up for them is a home and away double header with in-form Dundee Stars and for out-of-sorts Flyers - not the game they will be wanting at this time.
Weekend results
Saturday
Belfast Giants 2-3 Dundee Stars (OT)
Braehead Clan 2-3 Sheffield Steelers
Fife Flyers 1-3 Edinburgh Capitals
Sunday
Dundee Stars 4-3 Braehead Clan
Edinburgh Capitals 4-3 Hull Stingrays (PS)
Hull Stingrays 5-4 Fife Flyers