Clan and Capitals edged out by Hull Stingrays
By Craig Anderson
BBC Scotland
Last updated on .From the section Ice hockey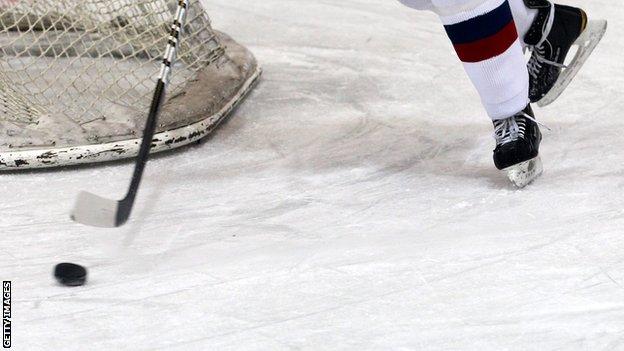 Ben Bowns is one name Scottish sides won't like to hear any time soon after the Hull Stingrays netminder denied two clubs on penalty shots this weekend.
The Humberside men left Scotland with a full four points after defeating Gardiner Conference rivals Braehead Clan and Edinburgh Capitals over consecutive nights.
For Edinburgh, who were sunk on Sunday, it ended a winless two days for them after losing at Nottingham Panthers 24 hours before and coach Richard Hartmann wasn't happy.
He said: "The effort was there, but it don't think we used our heads and there were times where we should have been smarter.
"The point from the Hull game isn't good enough for us in this situation. We were missing two guys, which I don't have replacements for, but I felt we should have been better.
"I don't think it's fair to say we were lucky to just lose 5-2 to Nottingham on Saturday. Sure, they were the better team, but one goal would have got us back into it.
"We should have held it at 1-1 until the third period in that game and it could have been different."
After a good start to 2014, the Caps succumbed to defeat and losing at the Panthers is certainly no disgrace.
Hartmann equalised Jonathan Boxill's opener for Nottingham, but the Panthers stormed into a 4-1 lead before Martin Cingel pulled another back. David Clarke knocked in the Panthers' fifth.
On Sunday, an entertaining match with Hull Stingrays ended with a loss on penalties as Edinburgh's guests sneaked off with the points.
Matt Davies put the Stingrays ahead when his effort found its way past Caps goalie Tomas Hiadlovsky to open the scoring with Jay King scoring in reply.
Jason Silverthorn restored Hull's advantage with a neatly worked finish, but Edinburgh equalised again through Hartmann.
Guillaume Doucet put Hull ahead once more, only for Cingel to send the game to overtime then penalty shots, in which Bowns saved Michal Dobron's to clinch the points.
Sylvain Cloutier's men did exactly the same thing 24 hours earlier at Braehead Clan, leaving Glasgow with a 4-3 win, courtesy of penalty shots and that man Bowns.
Doucet opened the scoring for Hull, but Braehead drew level through Neil Trimm, only for Bobby Chamberlain to restore the visitors' lead shortly after.
Matt Haywood then Kenton Smith turned the game in Braehead's favour, only for Carl Lauzon to grab a last-gasp leveller and send the game beyond regulation time.
But when it came to penalty shots, Lauzon did the damage for Hull with Bowns assisting with the vital stop.
The loss left Braehead bitterly disappointed as they continue to wade through a wretched run of form that has seen them drop to fifth in the table.
Clan's Haywood summed things up by saying: "It's not good in the dressing room right now and this was a game we were focussed on winning that would help us get back to form.
"We came out flat in the first two periods and were lucky to be only 1-0 down after the first period, if it weren't for our goalie, Kyle Jones."
Elsewhere, Fife Flyers and Dundee Stars fought it out in a double header that marked the return of Flyers' Matt Nickerson after a nine-game ban.
The Kirkcaldy men won the first battle on penalty shots as back-up netminder Blair Daly, in as cover for Kevin Regan, absent due to a family bereavement, greatly impressed.
Brock McPherson opened the scoring for Stars, but Flyers turned the game around through goals by Ned Luckacevic and Tim Hartung.
Two from Dundee's Nico Sacchetti to turn the game back, but Jordan Fulton levelled, sending the game into overtime then penalty shots, where Hartung won it for the home team.
Dundee, however, gained revenge at home on Sunday as they went second in the league on the back of a 4-2 win over their old rivals.
Sam McCluskey and Tysen Dowzak had the Stars two up early in the second period, before Bobby Chaumont scored in reply for Flyers.
Bari McKenzie restored Dundee's two-goal lead, with Matt Reber notching one back to close the lead only for Nikita Kashirsky to kill the game off with an empty-netter at the end.
Weekend results
Saturday
Braehead Clan 3-4 Hull Stingrays (PS)
Fife Flyers 4-3 Dundee Stars (PS)
Nottingham Panthers 5-2 Edinburgh Capitals
Sunday
Dundee Stars 4-2 Fife Flyers
Edinburgh Capitals 3-4 Hull Stingrays (PS)