Cardiff complete Scottish hat-trick
By Craig Anderson
BBC Scotland
Last updated on .From the section Ice hockey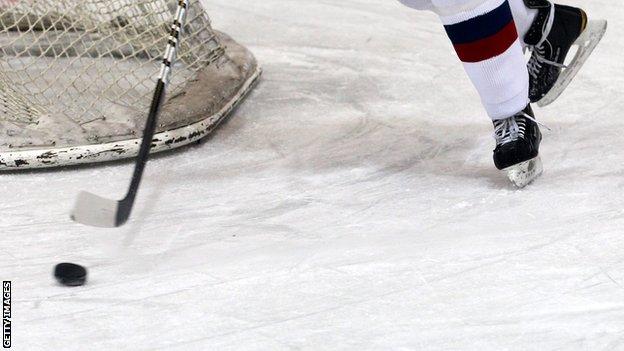 Coach Todd Dutiaume insists Fife Flyers are still in the play-off reckoning, despite falling eight points behind Cardiff Devils.
The Welsh side came to Scotland for three games in three days and posted wins in Dundee on Friday then in Fife on Saturday and completed the job in Edinburgh on Sunday.
But Dutiaume insists there are still lots to play for in the weeks to come as the Flyers aim to reel in the seventh-placed Devils.
"This team won't give up or roll over, but we need good team performances from now until the end of the season," he said.
"It's nowhere near done and dusted, but I admit the situation we are in is difficult. Expectation was high after last year and it seems like we've taken three steps back.
"The league has changed and there are closer games than before. Unfortunately for us, we're almost bottom of that pack. We've got two months left and we have to go on a run."
Cardiff began the weekend in Tayside and handed Jeff Hutchins' men their fourth loss on the trot by winning 5-1, with Andrew Lord grabbing a hat-trick.
The Devils then made their way to Kirkcaldy and needed overtime to beat Flyers 4-3 as they tightened their grip on that play-off spot.
Jordan Fulton took advantage of goalie's Kamil Kosowsky fumble to give Flyers a 1-0 lead, but Mac Faulkner had levelled for the Devils.
Tomas Kurka put the visitors ahead by the first break, but Fulton was on hand to level in the second period after Ned Lukacevic was kicked out the game for misconduct.
Matt Reber put Flyers ahead early in the third, but Faulkner equalised again only for Chris Blight to win it beyond regulation time with his shot.
The Welshmen completed their hat-trick in Edinburgh, denting the Capitals' play-off hopes with a 2-1 success at Murrayfield.
The Caps now lie 12 points adrift of the Devils and although there are 17 games left, they will need a huge swing in their favour to get a place in the final eight.
Marcis Zembergs opened the scoring for Edinburgh as they tried to find their way out of their latest slump.
But Faulkner scored an equaliser in the second period for Cardiff, before Tyson Marsh finished Cardiff's winner to ease their play-off worries.
Edinburgh's loss came on the back of Saturday's 4-3 defeat at Dundee Stars and now makes it a run of six without a win for Richard Hartmann's struggling side.
Two goals from Jeff Hutchins set Stars on their way despite Jan Safar opening the scoring for Edinburgh, the player-coach scoring to level before Mike Wirll put Dundee ahead.
Zembergs levelled for the Caps early in the second, but Hutchins struck again along with Jerry Pollastrone before Hartmann scored a consolation late on.
Stars coach Hutchins was a happier man after Saturday's result and admitted he is feeling better ahead of the crunch double-header with Braehead Clan next week.
He said: "I'm happy we broke this mini streak of losses on Saturday and no-one likes to lose. In fact, we were probably a little bit embarrassed by the loss on Friday to Cardiff.
"But we met up on Saturday morning and talked it through. We knew we had to win against Edinburgh and start salvaging this campaign again.
"We have to look at this as a big step towards the two games against Braehead Clan next weekend and as things stand, they will be huge."
As for the Clan, they remain a point behind Dundee Stars after going down 2-1 in overtime to the runaway champions-elect Belfast Giants.
Braehead took the lead through Ash Goldie, but Jeffrey Szwez's shot beat Clan goalie Kyle Jones to level just before the break.
But an error from Matt Towe in sudden death overtime allowed Whitecotton to take advantage and score the winner to kill Clan off.
Weekend results:
Friday
Dundee Stars 1-5 Cardiff Devils
Saturday
Braehead Clan 1-2 Belfast Giants (OT)
Dundee Stars 4-3 Edinburgh Capitals
Fife Flyers 3-4 Cardiff Devils (OT)
Sunday
Edinburgh Capitals 1-2 Cardiff Devils