Belfast Giants beat Hull Stingrays 3-0 to extend Elite League lead
Last updated on .From the section Ice hockey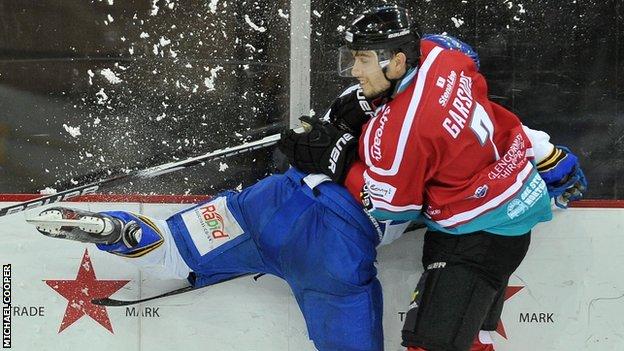 The Belfast Giants beat Hull Stingrays 3-0 at the Odyssey Arena to extend their lead at the top of the Elite League to a remarkable 21 points.
Jeff Mason scored in the first period and Dustin Whitecotton and Chris Higgins found the net in the third, all on the powerplay.
The Giants have now gone 20 games without defeat in regulation time and face Fife in Belfast on Saturday night.
Paul Adey's side need just 11 points to secure the league title.
Dundee Stars and Sheffield Steelers are their nearest challengers, 21 points adrift.
It was a game that will not live long in the memory, but the outcome was another important two points in the Giants' march towards the title.
The home side missed several opportunities and at times were lulled into mediocrity by a Stingrays side that never really looked like getting a puck passed Giants netminder Stephen Murphy.
The first period of the game meandered along for the most part with the Giants in charge but unable to score.
Then on a two-man advantage in the closing stages, a bizarre incident happened when a Robby Sandrock rocket appeared to go through a hole in the corner of the net. No goal was given although subsequently the officials had to repair a hole.
However it took only a few more seconds after the game restarted for Colin Shields to find Mason on the backdoor play to open the scoring.
The only fault you can pick in the Giants play in recent weeks has been the second period and once again they struggled to gain any momentum as they squandered further powerplay chances.
It had all the hallmarks of a 1-0 game but two quick goals settled the matter halfway through the final session.
At 49:56, again on the powerplay, Whitecotton diverted the puck past goalie Ben Bowns from Calvin Elfring's pass and then at 51:18 Higgins deflected in a shot from Kevin Saurette.
All that was left was for Murphy to complete his third shut-out of the season and this he did with little incident.