Belfast Giants win Elite League title for fourth time
Last updated on .From the section Ice hockey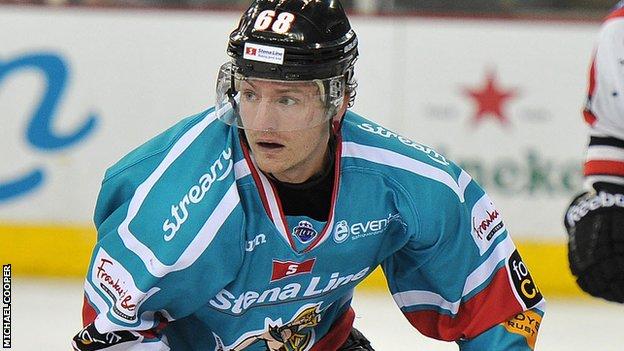 Belfast Giants won the Elite League title for a fourth time after their nearest challengers lost on Sunday.
The Giants defeated Nottingham Panthers 3-1 on Sunday, their 11th straight victory in the league, and needed both Dundee Stars and Sheffield Steelers to lose in order to wrap up the title.
Edinburgh duly defeated Dundee 4-3 while the Steelers were beaten by Cardiff Devils on penalties.
Paul Adey's team are crowned champions with 10 league games to spare.
The Giants were expected to secure the title in front of their own fans on Friday night against Coventry but Adey said there is no sense of anti-climax at clinching it away from the Odyssey.
"Not at all," he said.
"To do it against last year's champions in their own rink, in such a dominant fashion in the second game, was really the icing on the cake.
"That's what makes it special for me, to win it on a night when we played so well.
"I don't think we could have played any better. It was probably our most clinical performance of the season. We just wanted it. The guys just wanted it this weekend and played incredible."
Adey has led the Giants to victory in 22 of their last 23 league games in what is his first season in charge.
"On a personal level, I lost my father in July and I thought if we won something special then I could dedicate it to him.
"But you can only win a championship with good players with great ability, and also great character.
"We've gone on a big streak without losing and you could see the guys had it in their minds they were going to win a championship."
Sunday's victory was the second time the Giants had beaten the Panthers 3-1 this weekend.
Chris Higgins put the visitors ahead late in the first period but Nottingham hit back with a David Clarke goal.
Robbie Sandrock restored Belfast's lead 30 seconds later and Kevin Saurette sealed the win with two minutes left.
Higgins (two) and Evan Cheverie scored Belfast's goals in Saturday's match at the National Ice Centre.
Belfast's first league triumph came in 2002, followed by success in 2006 and 2012.