Fife Flyers in contention for play-offs
By Craig Anderson
BBC Scotland
Last updated on .From the section Ice hockey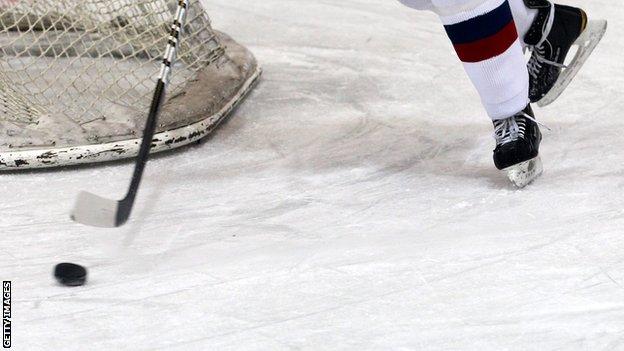 Fife Flyers captain Justin DaCosta is refusing to get carried away, despite his team moving to within four points of Cardiff Devils in the race for the play-offs.
Eighth place is their target and, after seven wins in their last eight, Cardiff are firmly in their sights after beating them and Edinburgh over the weekend.
And while he is pleased at the Flyers' fightback and upsurge in form, DaCosta refuses to look beyond their next opponents.
He said: "Every game from now on in is a must win and we know the position we've put ourselves in.
"It was a great weekend for us and other than playing Dundee Stars on Tuesday, I couldn't tell you who we're playing after that.
"We're only focussed on the next game right now, but winning these two games were huge for us. That said, we've still a lot to do between now and the end of the season."
As the regular season heads into its final month, what seemed unlikely a few weeks ago is now very possible for the Flyers.
They began their weekend by ending Edinburgh Capitals' play-off hopes off with a 3-2 at Murrayfield on Saturday.
Ned Lukacevic and Matt Reber gave the Kirkcaldy men a two-goal lead, before Peter Holecko pulled one back for the Caps, with Michal Dobron adding an equaliser.
Reber came up trumps with the winner in third period, ensuring the recent upturn in form continued on the road to Cardiff on Sunday.
It was dramatic, but they got the job done as Derek Roehl found the net first for the Flyers in the opening period to take the lead.
The home side pulled level through Tyson Marsh during the second period, but parity lasted only 20 seconds with Fife scoring again to restore the lead through Danny Stewart.
Netminder Kevin Regan was judged to have pulled the net off its moorings with ten seconds to go for Fife, with Mac Faulkner equalising to send the game to overtime.
But Jordan Fulton was the hero, sending the puck past Devils goalie Kamil Kosowski to clinch the much-needed two points.
As for the Capitals, it's going to be long month for them with nothing but pride to play for in the next five weeks.
Sunday's heavy 8-2 loss to Coventry Blaze certainly reminded them of that as they toiled to get into the game, with only Richard Hartmann and Curtis Leinweber finding the net.
Dundee Stars, meanwhile, moved to the top of the Gardiner Conference, edging out Hull Stingrays in a Tayside thriller on Sunday.
It came 24 hours after almost going the distance at Nottingham Panthers on Saturday, lasting 55 minutes before Lynn Loyns and Robert Farmer found the net to win it 2-0 for Panthers.
But James MacLellan's vital winner in the second period on Sunday against the Stingrays proved to be the difference in a tight and tense encounter.
Stars' skipper Brock McPherson was delighted with the defensive qualities of his side on Sunday and praised his netminder in particular.
He said: "Coming down to the end of the season, every game is huge and we knew we had to play defensively and stop Hull's attackers from exploiting us and we did that.
"I was pleased for Dan Bakala, our goalie to get a shutout and he's been top class for us all season. He deserved that piece of glory for himself.
"Our focus all season has been winning the Conference to obtain that higher seeding and this win lets us keep the ball rolling as the games get more and more intense."
Finally, Braehead Clan lost their fourth game in a row as Sheffield Steelers recovered from two goals down to win 6-3 in Glasgow on Saturday.
Early goals from Matt Towe and Ed McGrane gave the home lead a 2-0 lead, but Steelers hit back through Chris Blight and Rob Dowd. But McGrane struck again to restore Clan's lead.
Steelers turned things around in the second period when Blight and Dowd added their second goals before Jeff Legue then Gord Baldwin sealed the win for the Yorkshire side.
Weekend results
Saturday
Braehead Clan 3-6 Sheffield Steelers
Edinburgh Capitals 2-3 Fife Flyers
Nottingham Panthers 2-0 Dundee Stars
Sunday
Cardiff Devils 2-3 Fife Flyers 3 (OT)
Coventry Blaze 8-2 Edinburgh Capitals
Dundee Stars 1-0 Hull Stingrays