Dundee Stars backed for play-offs
By Craig Anderson
BBC Scotland
Last updated on .From the section Ice hockey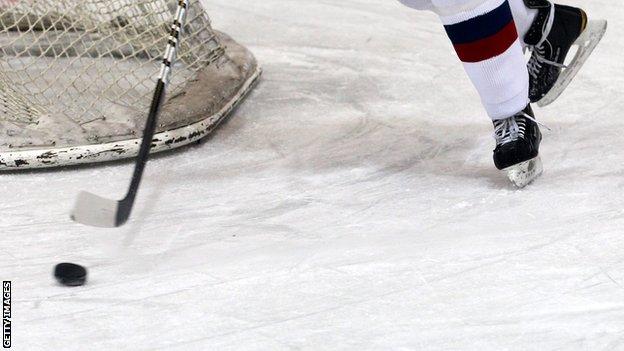 Edinburgh Capitals captain Martin Cingel has backed former team-mate and current Dundee Stars coach Jeff Hutchins to lead his team to the play-off finals.
The Stars take on Fife Flyers, while Braehead Clan face Nottingham Panthers in this weekend's quarter finals for a place in the finals.
It will be the first time a Scottish team will take part in the finals and, with an all-Scots tie guaranteeing this, Cingel reckons it will be the Tayside men flying the Saltire.
He said: "Dundee won the Gardiner Conference and finished third in the league overall and have been the surprise package all season.
"They have great skaters throughout their team, backed up by their goalie Dan Bakala, who is the best in the league for me.
"But Dundee and Fife will be a very interesting tie and when you look at Fife, they've had a great run of 14 wins in 20 games that got them there which cannot be overlooked.
"I'm especially pleased for the coach, Jeff Hutchins, to be in the play-off quarter final and I know things didn't go that well for him at Dundee last year.
"It was disappointing to miss out on the play-offs the way they did. I know he worked really hard in recruiting over the summer to get the team he now has and it's paid off.
"Looking at things overall, I think Dundee have the stronger team overall in every department and that will be the factor that will take them through."
The Slovakian and his Edinburgh Capitals team missed out on the play-offs after a season that saw them win only 13 of their 52 regular season matches.
And, as an outsider looking in, he gave his thoughts on what lies for Braehead Clan when they take on Nottingham Panthers, with their first leg tie taking place on Thursday.
The Panthers won the Challenge Cup earlier this week, beating Belfast Giants on penalty shots and will need to be on top form again just 48 hours later.
However, Cingel doesn't believe that will be a problem and reckons the Panthers' experience of this tournament could be the key factor.
He added: "The Panthers have had a tough week with the Challenge Cup final on Tuesday then having these tough games with Braehead to look forward to.
"They are professional guys and I don't think that will be too much of a problem for them.
"The advantage for Nottingham is that they play the first game at home and a good result could dictate the outcome of the tie when it comes to Glasgow.
"It will be an interesting tie as the Panthers haven't had as successful a season as last year, although they won the Challenge Cup.
"They won everything last year and these play-offs will be one they want and it's a competition their focus will be firmly on.
"Braehead have a very skilful team and have good players in all the key areas, so it's hard to predict just how this tie will go for both teams.
"Nottingham have the experience of this kind of competition, having won it the last three years so they know what's expected of them which could swing it their way."
With the Caps missing out, Cingel can only look on in envy as the other Scottish teams get ready to do battle as they vie for a place in the Nottingham finals.
And the veteran still has the memory of last year to know just how the other teams will be feeling, but admits his own team blew it.
He said: "It's a big disappointment to be missing out on the play-offs this year with Edinburgh Capitals, especially considering what we did last year.
"Looking back, it was an exciting time and the week before there was a huge build-up to it. This year is very different as you would expect.
"We have to take responsibility for what happened and realise it was our fault we didn't make it and look to change that next year."
Play-off quarter-final fixtures:
Thursday - first leg: Nottingham Panthers v Braehead Clan (19:30 GMT)
Saturday - first leg: Fife Flyers v Dundee Stars (19:15 GMT) second leg: Braehead Clan v Nottingham Panthers (19:00 GMT)
Sunday - second leg: Dundee Stars v Fife Flyers (18:30 GMT)