Women's ice hockey pioneer Shannon Szabados Q&A
Last updated on .From the section Ice hockey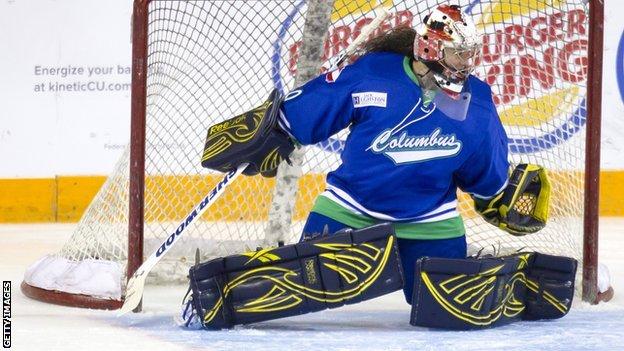 Double Olympic gold medallist Shannon Szabados has joined an exclusive list of female ice hockey players to play for a professional men's team.
The 27-year-old made her debut as a goaltender in the Southern Professional League for the Columbus Cottonmouths against Knoxville Ice Bears on 15 March and since then has played a key role in helping the team reach the play-offs.
Szabados, who is the sixth woman to play professional ice hockey in a men's team, was in goal when Canada beat the United States 3-2 in overtime in the final in Sochi last month.
Q. What's it been like to play in a professional men's team?
A: "It has been fun. I played with three of the guys in college and they've been telling me all about how fun it is. When I got back from the Olympics, the coach gave me a call and asked me if I wanted to join them for the rest of the season. I came down for the last four games and now we're into play-offs so I've really enjoyed myself so far."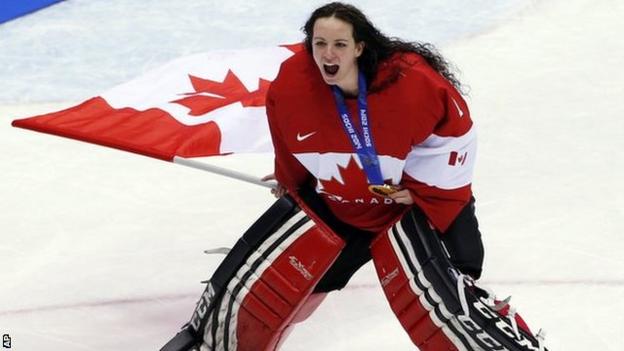 Q. What's been the reaction from the fans and your fellow players?
A: "The guys have been great. Like I said, I've played with a few of them so a lot of the other guys on the team knew beforehand that I was coming. Guys on the other team have been really fun. They've been extremely nice, congratulating me on the win in Sochi. The fans have been awesome as well."
Q. You are regarded as a pioneer. Do you think this will change things for future generations of girls who want to play professional hockey in America?
A: "I'd hope so. My main goal is to go out there and play hockey, but I guess if it can open some doors for future generations of girls growing up, maybe people will realise that girls are good enough to play with the guys at any level."
Q. What has been the wider reaction in America? Is it quite a big deal that a women has been allowed to play in this league?
A: "Yes and no. Just because it's never been done it's getting a lot of attention. Hopefully, I'll be back next year and I'm hoping that it won't be such a novelty anymore and I can just go out there and play and be the same as any other player on the ice."
Q. What about the logistics of how it works . . . do you have your own changing room?
A: "I am fortunate enough that I've always had amazing coaches and have always been in the dressing room with the team. They have a little area where they go and put their under stuff on and I go into the bathroom and put my understuff on.
"Then I'm in the dressing room for the whole time and obviously have a separate shower. But I think it's important for the team and for myself to be in the room and be a part of the team."
Q. This has brought a lot of publicity to the sport and to this team in particular. Do you think this was a publicity stunt and have people said that to you?
A: "I've heard it quite a bit but, no, I don't think [it is]. Obviously the coach knew that bringing me in would get a lot of publicity but he's said to me and said publicly that he brought me in because I was better than the other goalie they had.
"There is nothing I can do about what they say apart from hopefully play well on the ice and put those rumours to rest."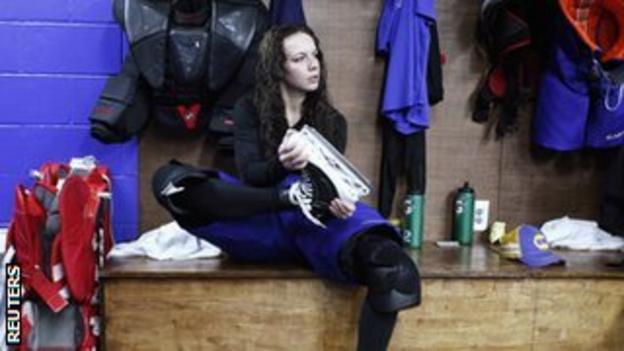 Q. Do you think in the future it will be one and women and men could play together? Or do you think that wouldn't be beneficial?
A: "I don't know that it would be great to have them combined but it would be nice to have a men's league and a women's league of the same level. You know, getting paid the same, getting the same exposure. If there were some females good enough to play on the men's team then so be it. But I don't know whether we'll ever see a league combined."
Q. Could you see yourself playing one day for the National Hockey League (NHL) team?
A: "No, I think I'm a little past that. I'll be 28 years old this year. I got a chance to practice with the Edmonton Oilers this year and it was a lot of fun but I think actually playing the game is out of reach for me by now."
Q. But your position now could inspire those in the future?
A: "Absolutely, it wouldn't surprise me if there's a female sometime down the road who plays in the NHL.
"I think girls are getting so much stronger and faster and more athletic and they're able to keep up. I think if they can play with the guys, guys are naturally bigger and stronger and faster. So I think we're slowly narrowing that gap and it's nice to see more females playing in men's sport."