Craig Peacock signs two-year deal with Belfast Giants
Last updated on .From the section Ice hockey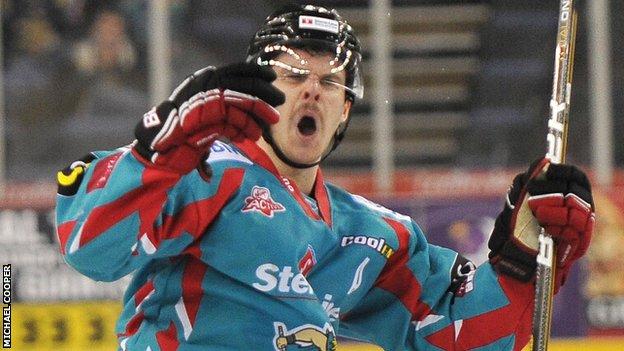 Belfast Giants forward Craig Peacock has signed a new two-year contract with the Elite League champions.
The 25-year-old Englishman spent four years with the Odyssey side before joing Danish side Fredrikshavn in May last year.
He returned to Belfast in October and contributed 23 goals and 11 assists in the successful league campaign.
"I'm excited to be coming back to defend the league title and hopefully win more silverware," said Peacock.
He added: "It was an easy decision for me to sign back in Belfast, it's like home to me now.
"Everything from the top down is first class and the Giants are a great organisation to be a part of."
The GB international is currently recovering from an injury sustained in the first leg of the play-off quarter-finals in Hull.
Peacock is the third top scorer in Giants history with 251 points in 286 games, coming in behind George Awada and Colin Shields.
"We signed Peaks when he was just a kid and he has grown into one of the top British players in this league," said Giants general manager Todd Kelman.
"We are excited to get him back in Belfast where he belongs for at least another two years, and we hope to have him here for a long time."
"He is a natural scorer and has been a part of some big moments in Giants history playing a key role on the Championship teams he has been a part of."
Davey Phillips, Colin Shields, Adam Keefe, Evan Cheverie, Mark Garside, Darryl Lloyd and Kevin Saurette have also been signed by the Giants for the 2014/15 season.