Defenceman Robby Sandrock staying with Belfast Giants
Last updated on .From the section Ice hockey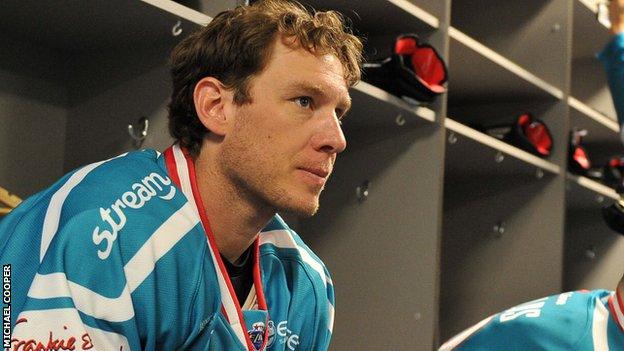 The Belfast Giants have announced that last season's top scoring defenceman Robby Sandrock is staying with the Elite League champions.
Canadian Sandrock has signed up for a third consecutive season, his fourth in total with the Northern Ireland side.
He helped the Giants to the league title last season, recording 51 points including 38 assists.
The 36 year-old was named on the Elite League's All-Star Team and the UK Ice Hockey Journalists' All-Star side.
"Not only is Robby one of the best defencemen in the league, he is a proven winner," said Steve Thornton who is back for a second stint as coach of the Giants.
"He competes hard, makes great decisions and he can change a game with his shot. "
With Sandrock confirmed, only one spot in defence remains and Thornton said he was prepared to be patient in building his team for next season.
"I am not going to rush into anything, there are plenty of good players contacting us about coming to Belfast, so right now we are in a good position," he said.
"We are returning the core of a championship winning team and we are going to wait to find the right guys who can fit into our plans to win more trophies this season."
Thornton, who is currently in Canada tying up loose ends before moving over to Belfast, is expected to be in Northern Ireland by mid-June.