Defenceman Brookwell remaining with Belfast Giants
Last updated on .From the section Ice hockey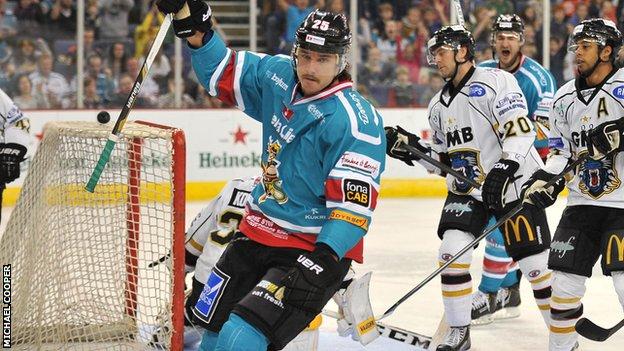 Cody Brookwell has handed the Belfast Giants a major boost by staying with the Elite League champions for the 2014/15 season.
The defenceman joined the Odyssey team in 2013 and was a key player in the charge to the league title.
Brookwell posted six goals and 24 assists in 63 games during his first season in the Elite League.
"Cody was steady as a rock and had a great partnership with Calvin Elfring," said Giants coach Steve Thornton.
He added: "With the extra import rule this season, it seems to have created more size in the league.
"It was important to have a big body to create some room in front of the net, be physical in the corners and still have ability to have quick feet and make that outlet pass which is a rare combination for a big man, but that's what Cody has."
Brookwell's signing completes the team's defensive corps for the season ahead with the consistency of having the same line-up in defence for a second consecutive season
He joins Elfring, Jeff Mason, Davey Phillips, Kevin Phillips and Robby Sandrock on the blueline.
"We are really excited to have our full D-corps back as it was one of last season's strengths," said Thornton.
"Having D-men who can make decisions and can move the puck will be more critical this season and that's what we have."