Dundee Stars target winning run in
By Craig Anderson
BBC Sport Scotland
Last updated on .From the section Ice hockey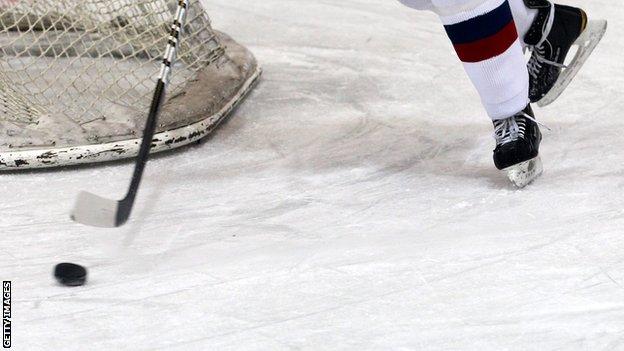 Dundee Stars' Bari McKenzie admits there was huge relief as his team finally won their first game of the season, and remains confident the victories will keep on coming.
The Tayside men's 2-1 overtime win over Fife Flyers on Sunday ended a run of five consecutive defeats.
Now McKenzie believes this is just the start and has called upon his team-mates to stand up and be counted.
"We're extremely relieved to get that win," said McKenzie. "It's had been a long time coming.
"Everyone wanted this one badly and I'm hopeful we can go on a run from here.
"It's a monkey off our back and I think we've lost games we haven't deserved to.
"After the success of last year, there was a level of pressure and it did get to us that we weren't winning.
"Now we need everyone to step up and Shane Lust did for us this week with his goals.
"Now we all have to play our part and get more points on the board."
It's taken a couple of weeks, but the Gardiner Conference champions finally got there and it would have been pleasing that it came against their old rivals.
One player to make a difference in terms of goals was Lust, the former Braehead Clan forward who netted in each of the three matches this weekend.
His first, in Friday's 2-1 loss to Coventry Blaze, was nothing more than a consolation after Mark Smith and Ross Venus had put the Blaze in front.
Saturday's trip to Fife Flyers was more enthralling, but no more successful as Todd Dutiaume's side won 4-2.
Chris Auger opened the scoring for Fife, with Martin Cingel pulling Dundee level almost instantly. Scott Fleming and Bobby Chaumont added Flyers' second and third goals.
Lust pulled one back early in the third period, but Jordan Fulton re-established the two-goal lead with four minutes to go to seal the win.
It was a tight affair when both sides met again 24 hours later on Tayside, but the Stars finally got their win, beating their old rivals 2-1 after overtime.
Chaumont's goal for Fife was cancelled out by another from the in-form Lust.
However, the game couldn't be settled in the regulation 60 minutes.
The Tayside men had the final word as Igor Gongalsky's winner secured their first points of the season.
Braehead Clan's one and only game this weekend was down at Cardiff Devils with the Welsh side triumphant in a 5-4 overtime win.
Derek Roehl got the Clan off to a perfect start with a goal inside the opening two minutes, but Andrew Lord, Tyson Marsh and Andrew Hotham had the Welsh side 3-1 up by the first break.
Ryan Kavanagh pulled one back only for Lord to restore Cardiff's two-goal advantage until Matt Haywood reduced the arrears to one again.
Scott Aarssen's equaliser made it 4-4, taking the game beyond 60 minutes, where Joey Haddad's strike clinched the game for the Devils.
The Welshmen were soon on the road and travelled to Edinburgh Capitals to complete their weekend of games, but went down 3-2 after penalty shots.
Edinburgh's build-up was dominated by the news of Riley Emmerson's successful appeal of a 10-game ban, which was reduced to three, making him free to play in this one.
The script was written as he opened the scoring, finishing a scramble around the crease in front of goal, in which he got the final touch.
Then Richard Hartmann added a second, but the Devils pulled one back through Carl Hudson, who swung his stick to send his shot flying past Caps goalie Tomas Hiadlovsky.
Cardiff equalised short handed, with Lord tucking in a rebound, however both sides couldn't be separated until penalty shots as Greg Collins' proving decisive in the end.
Caps hero Collins revealed it had been a tough week for Emmerson, but was glad to have him back in the line-up on Sunday.
He said: "It was a difficult week for Riley as he was waiting around to see whether or not the ban was going to be lifted or not.
"We're in a new league, so we were unsure just how the appeal was going to go. When we found out he'd won, there was great relief all around and it was great to have him back."
RESULTS:
Friday
Dundee Stars 1 Coventry Blaze 2
Saturday
Cardiff Devils 5 Braehead Clan 4 (OT)
Fife Flyers 4 Dundee Stars 2
Sunday
Dundee Stars 2 Fife Flyers 1 (OT)
Edinburgh Capitals 3 Cardiff Devils 2 (PS)