Elite League: Belfast Giants snatch victory over Cardiff Devils
Last updated on .From the section Ice hockey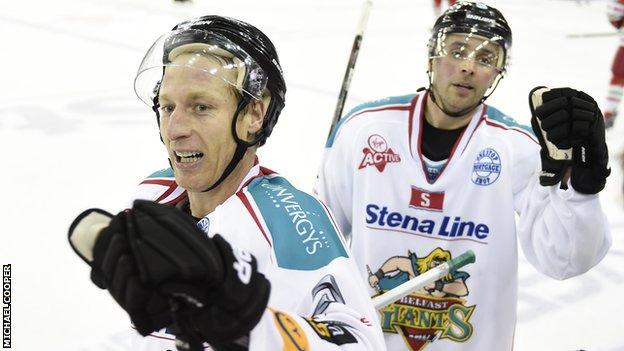 A last-gasp goal by Mike Kompon helped Belfast Giants edge a 3-2 win in the first game of this weekend's double-header against Cardiff Devils.
Tyson Marsh put Cardiff ahead in the first period before Kompon levelled early in the second period.
Jake Morissette restored Cardiff's lead late in the second period only for Kevin Garside to level matters again seven minute into the final period.
Kompon hit Belfast's winner with 23.2 seconds left at the Odyssey Arena.
The decisive goal came after Belfast keeper Stephen Murphy had made a couple of brilliant saves to deny the Devils.
For long stretches the home team didn't look like they could pull the win out of the bag but they dug deep in the final twenty minutes.
The Welsh side were winning the one-on-one battles early on and on 9:39, Devils pressure resulted in Marsh slotting past Murphy.
As the first period closed, the Giants were handed a four-minute powerplay that spilled over into the second period.
That became a two-man advantage when Carl Hudson picked up a penalty 36 seconds after the restart and finally the Giants managed to score when Kompon roofed the puck past Ben Bowns at 22:27.
However after intense Giants pressure, they were hit by a sucker punch on 36:10 as Morissette fired past Murphy following a harsh penalty called on Davy Phillips.
But good work from Lloyd, Adam Keefe and Mark Garside set up the latter to notch a second equaliser on 47:02.
Murphy came up with a couple of huge saves to keep the game in the balance.
When the lumbering Doug Clarkson took a tripping call late on it was Lloyd who poked the puck into the net after a mad scramble in front of Bowns.
The match ended with players from both teams indulging in some pushing and shoving and Saturday's return contest could well have a little edge.