Elite League: Giants hammer Dundee 7-1 at Odyssey Arena
Last updated on .From the section Ice hockey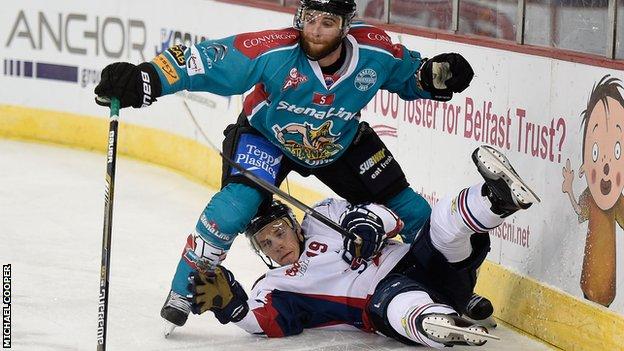 The Belfast Giants hammered the Dundee Stars 7-1 in Saturday's game at the Odyssey Arena to maintain first place in the Elite League standings.
First-period goals from Ray Sawada, Mark Garside and Davy Phillips put the Giants in control.
After Darryl Lloyd notched Belfast's fourth, Igor Gongalsky replied but Garside, Mike Kompson and Robby Sandrock hit further Giants goals.
Saturday's game was Belfast's third succesive league win.
Belfast's first goal came on the powerplay at 8:53 with Sawada's pin-point accurate wrist shot from the left circle into the top corner beating Stars goalie Marc Cheverie.
The second goal came fifty seconds later when Lloyd carried the puck into the Stars zone and his pass found Mark Garside trailing the play and his shot beat Cheverie.
With under a minute left defenceman Phillips jumped into the play, won the puck, continued towards the net was was rewarded when Garside's no look pass found him and he went top shelf.
The home dominance continued 57 seconds into the second period and Sandrock's pass set up Lloyd to score.
Gongalsky's wrist shot put the Stars on the board soon after but the Giants soon regained the initiative with Garside netting his second of the game at 25:01 pouncing on a shot from Sandrock that deflected off a Stars stick and into his path.
The sixth goal was also a thing of beauty as Mike Kompon started the play with good defensive positioning.
His pass found Mark McCutcheon and he returned the favour with a tape-to-tape pass to Kompon who continued up ice to apply the finish.
Both sides put in their back-up netminders and both played well with the Giants Andrew Dickson conceding nothing in the final 20 minutes.
There was a fight for the crowd of 4,000 to cheer with Sawada and Brad Plumton dropped the gloves and one more goal as a blast from the right point by Sandrock on the powerplay found the bottom corner of the Dundee net.
While the visitors were poor, there were plenty of positives for the Giants to take into next weekend's trip to Germany for the Continental Cup.