Belfast Giants beat Braehead to go top of the Elite League
Last updated on .From the section Ice hockey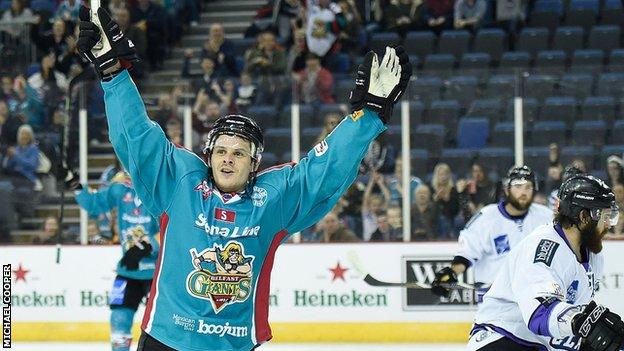 Belfast Giants moved to the top of the Elite League as they defeated Braehead Clan 4-1 at the Odyssey Arena.
Braehead went into the game on the top of the table but played second fiddle for nearly all of Friday's contest.
The Giants bossed the first period but didn't take the lead until Colin Shields netted in the 18th minute.
Craig Peacock and Kevin Saurette goals early in the second period put Belfast 3-0 up and Peacock's second goal was followed by Stefan Meyer's late reply.
The result moved the Giants level on points with Clan and Steve Thornton's side move to the top of the table by virtue of their greater number of wins in regulation time.
The top-of-the-table contest, watched by over 4,000 spectators, had a frenetic opening with both goals leading a charmed life.
Calvin Elfring almost scored on a breakaway, with the Giants shorthanded, but Kyle Jones in the Braehead goal managed to tip his shot over the bar from close range.
Davy Philips came even closer with a slapshot that was just cleared off the line, while Peacock hit the bar soon after.
The breakthrough for the Giants came with just under three minutes to go in the period, when Ray Sawada played in Shields who fired a venomous shot past Jones.
The Giants established control early in the second period with two goals in 34 seconds.
Firstly, Peacock tipped in off a Davy Philips shot before Saurette, upon his return to the side, made it 3-0.
Braehead responded and the Giants were thankful for the outstretched leg of Stephen Murphy which denied the Clan's Neil Trimm at close quarters.
A bad hit on Kevin Philips at the start of the third period led to a fight between his brother David and Clan's Derek Roehl which ultimately resulted in the Braehead player's ejection from the game.
Peacock added his second goal of the night before Murphy was finally beaten by Meyer late on.