Belfast Giants make heartbreaking exit in European competition
Last updated on .From the section Ice hockey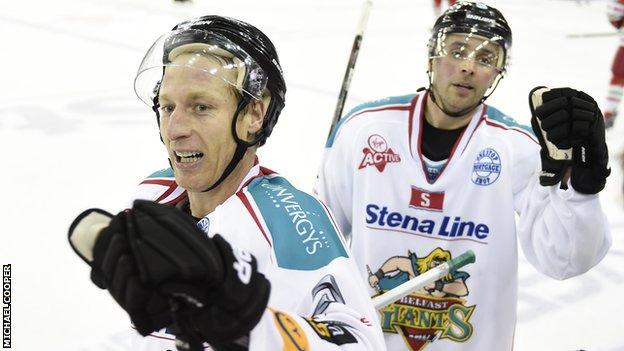 Belfast Giants suffered Continental Cup heartbreak on Sunday as they were edged out of a place in the Super Final in January despite their 5-3 win over Polish club Sanok.
That meant only a single goal win for Belarusians Neman Grodno of 3-2 or higher against already qualified hosts Angers would deny the Giants.
But that was precisely what happened later in the day as Grodno won 4-3.
As a result, Grodno progressed along with the French hosts.
That left the Giants stunned and frustrated that the only result that could have knocked them out came to pass.
The giants went out on goals scored after the three sides ended up on six points in the group.
"It's pretty frustrating the way that it ended," said a bitterly disappointed Giants coach Steve Thornton after his team's exit.
"We left it out of our hands with one bad period against Angers that cost us in a 2-1 loss and its a shame that the one score that we couldn't have, happened."
His side had battled all weekend beating Grodno 1-0 and only losing out to Angers 2-1 on Saturday before producing another fine display to beat Sanok despite icing only 14 skaters to the opposition's twenty.
"We also lost a couple of players with injuries during the tournament which is disappointing with a lot of big league games coming up and we're not progressing in this cup so it's pretty bitter right now," added Thornton.
Evan Cheverie, Mike Kompon, Daryl Lloyd, Mark McCutcheon and Adam Keefe scored Belfast's goals in Sunday's game.
Sanok were out of contention after losing their opening two games and Belfast looked to be on their way when Cheverie netted but the Giants suffered a blow before the end of the first period when Robby Sandrock was forced off by a knee injury.
The Poles levelled 28 seconds into the second period through Jordan Knox's powerplay effort and Robert Kostecki then put Sanok ahead four minutes later.
Kompon's fine solo goal then levelled the contest and while Jordan Pietrus restored Sanok's lead, Lloyd made it 3-3 with less than a minute left in the second period.
McCutcheon scored Belfast's vital fourth goal with eight minutes left in the final period and Keefe added a last-gap empty net effort after the Poles had withdrawn their goaltender in order to chase an equaliser.