Ice hockey's Roman Abramovich? How Telford Tigers found their roar

Last updated on .From the section Ice hockey
The Telford Tigers can still remember the day they lost their 23rd match in a row. It was on 30 January, 2013 - not a date this ice hockey team hides from.
Nor do they forget that a year or so ago, they were 12 points adrift at the foot of the English Premier League. Money was short, times were tough. The future looked bleak.
But then one man changed everything. And in the space of 12 months, the Tigers have gone from whipping boys to champions elect, a soft touch to a dominant force.
It is not a coach, or star player, who is behind the Tigers' transformation. The man who sparked a revival that has become the talk of British ice hockey is an unlikely face from Telford's past.
In 1988, he was the club's 15-year-old stick boy. A self-confessed hockey geek. Some 26 years on, that stick boy is a multi-millionaire. And now he owns the club.
Meet Wayne Scholes. Telford boy made good. Resident of Salt Lake City, USA, the headquarters of his software technology company, Red Touch Media.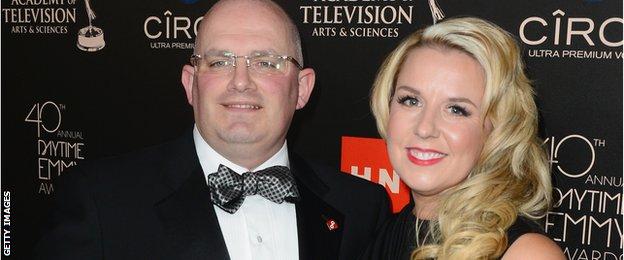 When Telford's general manager and former player, Paul Thomason, saw Scholes' companysponsoring the Emmys, he made contact with his former stick boy.
Says Scholes: "Paul said 'I know you still follow the Tigers, any chance you want to sponsor us?' I knew they were having a tough time, so I agreed to help. It wasn't very long after that we realised there was more we could do to help. I told him we needed to own the club, not just sponsor it."
A 12-point gap at the bottom of the English Premier League, the second tier of competition below the Elite League, has become an 11-point lead at the top. Crowds have tripled and Telford now boast a former Great Britain captain, plus talent from Canada and the rest of Europe on their roster.
"We have invested heavily in the squad but all we have done is make it a level playing field," Scholes says. "Before Telford were operating on about a 10th of the budget the rest of the league had. When we came in we targeted players we knew would make an instant impact. We wanted the best and we went and got them.
"I have always thought of myself as someone who thrives on disrupting the status quo and that is what we have done. In the past everyone knew who was going to win this league. How boring is that? We have made the competition a million times more competitive and a lot more interesting. But ultimately we have come to win."
Some have labelled Scholes as ice hockey's answer to Roman Abramovich, the Russian oligarch whose near-£1bn investment has transformed the fortunes of Chelsea Football Club over the past decade.
Elite League v Premier League
The 10-team Elite League is the top level of ice hockey in Britain, with the table currently headed by Braehead Clan.
One tier below that is the Premier League, consisting of nine teams with Telford Tigers 11 points of ahead of Peterborough Phantoms.
"I have definitely heard that said but I'm a die-hard Liverpool fan, so it's not accurate," quips Scholes. "In all seriousness, all I've done is take a team that was fighting on a shoestring budget and bring them up to the same level as the rest.
"Have we bought success? That isn't what this is about. We still sit about fourth or fifth in the league in terms of budget and we are here for the long term, to build a club from top to bottom. To build a club that can pay for itself."
Scholes has flown in from the United States on one of his many regular visits. "It feels like coming home," he says. His mother Enid, now retired, still lives within walking distance of Telford Ice Rink.
As a boy Scholes would skip school to come here; the truant officer was a regular visitor. In the end, time at the rink was built into his curriculum. "This is where I grew up. This is where I came to hang out," he says. "Some days I wouldn't make it to school and I'd always come here."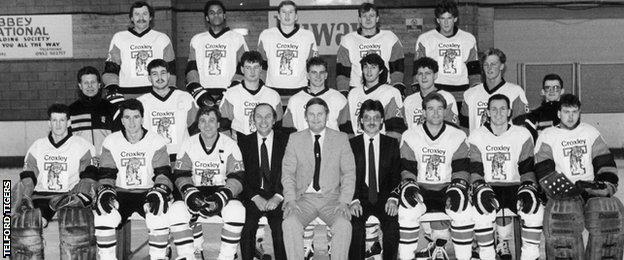 In the bowels of the rink is a broom cupboard filled with an array of multi-coloured ice hockey sticks, laid out with precision. "This was my home," says Scholes. "As a 15-year-old this was where I loved being. It was my job to look after the sticks. I would spend hours shaping the curve on them, heating them with a blow torch and then bending them over a chair or with my feet.
"Each player likes his stick a slightly different way and you knew if they had a bad game, there was a good chance you would get the blame for not getting his stick right. I used to carry home 15 sticks on the bus just so I could work on them at home."
The stick room circa-2014 is a different place, though. Gone are the heavy wooden lumps that would snap regularly. In their place are a myriad of carbon-fibre sticks, each one costing more than £250.
"As an owner, I didn't want my players coming to me saying 'we can't play well because we don't have the right equipment'. We give the guys the best equipment, the best sticks, so that they can concentrate on producing their best on the ice."
Scholes left Telford for London as a 16-year-old, soon after seeing the Tigers win their last championship title in 1988. He was a missionary in Northern Ireland during the Troubles, set up TV channels in Africa, went broke and then launched his own business empire while sleeping on a friend's floor. These days his company turns over some £50m.
Scholes has brought a new professionalism to the Tigers. Players are now given 52-week multi-year contracts where once they were paid from September to April. The team travel in matching suits, ties, and shoes. With Telford, the team is everything.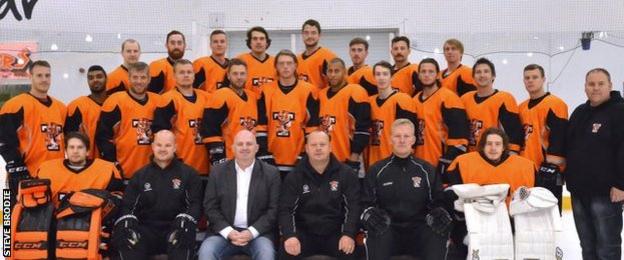 Their success has not been universally welcomed though. "That is putting it mildly," Scholes says. "Some of the owners have been really welcoming. Some of them dislike us intensely. For instance, we are top of the league and the team that won the league last year - Manchester Phoenix - are sitting in the bottom three. It has been difficult for some owners to see that change."
In the summer, the other Premier League owners voted to ban Scholes from buying their players. His solution? To look elsewhere and bring in better players from better leagues.
Jonathan Weaver, the former Great Britain captain, is one. His arrival last summer from Nottingham Panthers, who play in the Elite Ice Hockey League, made the sport sit up and take notice of Telford.
"We don't let it affect us," Weaver says. "It is not mentioned in the dressing room. I can understand why we are being talked about. You only have to look at where we were last season and where we are now. It's night and day. Wayne has big plans and it is exciting to be a part of that."
Jason Silverthorn, originally from Ontario, Canada, has lit up the Premier League this season with his goals for Telford. "A lot of teams now look at us as a benchmark," he says. "They are working hard to catch us, which is great for the league. Everyone wants to come here to beat us now just as we did with them last season. It's great for the league."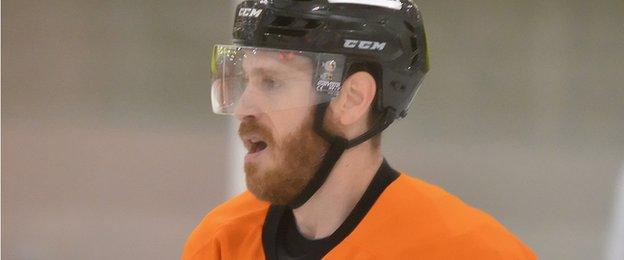 The people of Telford are also lapping the success up. Crowds are on the rise and plans are in place to allow fans to order food to their seats from next season via an app. Popcorn sellers will walk among crowds; every detail is being considered.
Away from the ice, the Tigers have formal partnerships with professional teams in North America. They share ideas and coaching methods with fellow hockey side Utah Grizzlies; matches will take place in the off-season. It is ambitious, pioneering stuff.
But, ultimately, everything is aimed at winning a first Championship title since 1988, and more.
"In the past I'd stand up in front of my players at the start of a season and say 'our goal this year is to win the league'" says head coach Tom Watkins. "In the back of my mind I knew it was unlikely. This year when I stood up and told the players the aim was to win the league, the play-offs and the Cup, I really meant it and believed it. The team have bought into that.
"Not many coaches have gone on a 23-game losing streak and kept their job. To see where we are now is kind of unreal. It feels like we've won the lottery; it feels a bit magic."