Elite League: Belfast Giants beat Sheffield to end losing run
Last updated on .From the section Ice hockey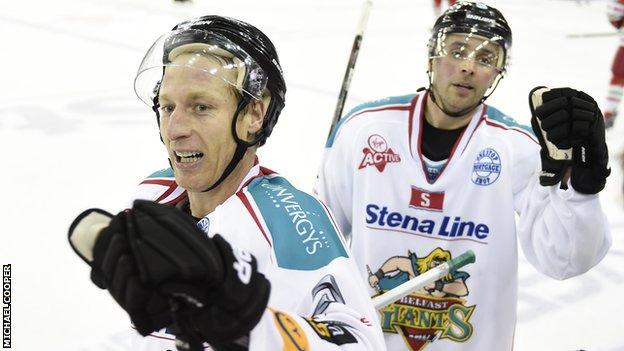 Belfast Giants ended their four-game losing streak by beating Sheffield Steelers on penalties after the Elite League game failed to produce a goal.
Giants netminder Carsen Chubak made 38 saves during 60 minutes of regulation and five more of overtime before stopping two Steelers penalties.
Mike Kompon scored for the Giants and Tyler Mosienko missed the net with the final effort for the home side.
The result was a huge boost for Steve Thornton's injury depleted Giants.
Already without long-term casualties Stephen Murphy, Mark Garside and Kevin Saurette, the Giants added Craig Peacock to their injured list on Saturday night.
Going into the game, the omens didn't appear good for the Giants at the end of a week that saw them lose at the league's bottom club Dundee and then get knocked out of the Challenge Cup by Cardiff.
However despite being outshot 15-5 in the opening period, Chubak shut the door and by the time the game passed its halfway point it was clear that a goaltending battle between Chubak and the Steelers Frank Doyle was developing.
They were helped by two sides that have struggled to score goals recently, the Steelers themselves having halted a five-game losing run of their own last weekend.
As the game wore on so the Giants became stronger but they failed to take advantage of the two powerplays to come their way .
There would be no sudden death winner so the extra point would be won in the shootout.
It was Kompon, yet to miss in shootouts for the Giants this season, who finally forced a puck to the net.
Chubak saved from Matthieu Roy and despite Robby Sandrock missing the Giants final shot, Mosienko couldn't beat Chubak and the Giants clinched two vital points.
They remain third in the Elite League, seven points behind Braehead but with two games in hand and will hope to gain ground on Sunday when they face the Edinburgh Capitals.