Sam Gospel: Sheffield Steelers coach praises stand-in goaltender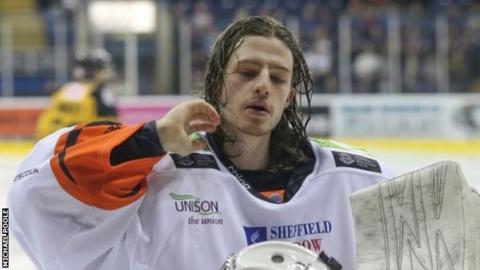 Sheffield Steelers coach Gerad Adams says he will "never forget" Telford goaltender Sam Gospel after his Challenge Cup semi-final heroics.
The 20-year-old was called up to face Nottingham Panthers after injuries to all three of the Steelers' keepers.
Gospel saved all three penalties in a shootout to send Sheffield through to face Cardiff Devils, after the tie ended in a 7-7 draw on aggregate.
"He's the reason we're in the final," Adams told BBC Radio Sheffield.
Gospel was called by Telford Tigers on Tuesday morning and took to the ice only hours later in Nottingham, which is only 20 minutes from his home.
"I never thought I'd be here winning against them (the Panthers) in the shootout, but it's a job and you've got to do what you got to do.
"I enjoyed it. I'm glad Sheffield gave me the chance," he said.
Challenge Cup Results
Tuesday, 24 February
Nottingham Panthers 4-6 Sheffield Steelers (7-7 aggregate, Steelers win 1-0 on penalties)
Wednesday, 25 February
Cardiff Devils 5-3 Coventry Blaze (9-4 aggregate)
Despite his performance against the Panthers, Gospel does not expect to receive another call from Sheffield in the near future.
"It's just one night - there may be things in the future, but I've got to get more experience at the minute.
"I want to go as far as possible. I'd love to get a start in this league in the future but I know that's not happening right now.
"I've got to get a lot more experience, so it's a long way away I think."