Elite League: Giants suffer second defeat by Panthers
Last updated on .From the section Ice hockey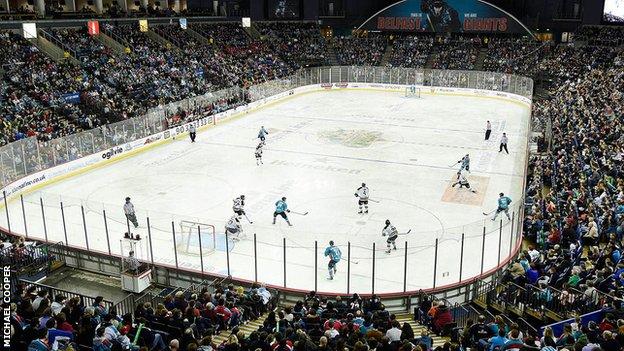 The Belfast Giants were beaten 5-1 by Nottingham Panthers on Sunday after losing to the same opposition on penalty shots on Saturday.
After a scoreless first half, Guillaume Doucet gave the Panthers the lead in the second period, Craig Peacock replying for the Giants soon after.
Doucet scored two more goals and Greg Jacina and Cody Wild one apiece as Nottingham bossed the third period.
Nottingham won on Saturday night after the game ended 2-2 after overtime.
Former Giant Chris Higgins was the only player to score in the shoot-out in front of a packed house at the Odyssey Arena.
Peacock gave Belfast the lead in the second period of the Elite League clash, but the Panthers responded with goals from Doucet and Jonathan Boxill.
Ray Sawada levelled with 20 seconds left, forcing the puck home after a scramble to put the game into overtime.
Two teams that may end up being play-off quarter-final opponents put on an entertaining opening 20 minutes but the closest either side came to scoring was a Calvin Elfring shot that rattled off the bar of the Panthers goal.
Most of the crowd of 7,164, the biggest at the Odyssey for over a decade, was on its feet early in the second period as Peacock fired the home side into the lead.
Mike Kompon then rattled the post before the visitors got back into the game, stunning the Giants with two goals in under a minute from Doucet and Boxill.
For the first, Doucet battled past three players from the corner before finishing from close range, the second was a wrist shot from distance that flew past Carsen Chubak in the Giants goal.
A collision between Kevin Westgarth and the Panthers' Craig Kowalski in the final period saw the Nottingham player leave the ice with a broken collarbone and the visitors aggrieved.
The Giants went in pursuit of an equaliser with their own netminder Chubak pulled off for the dying seconds of the contest.
Sawada missed a golden chance with thirty seconds left, only to make amends 10 seconds later by finding the net.