Ice hockey: Braehead Clan out to build on success story
By Craig Anderson
For BBC Sport Scotland
Last updated on .From the section Ice hockey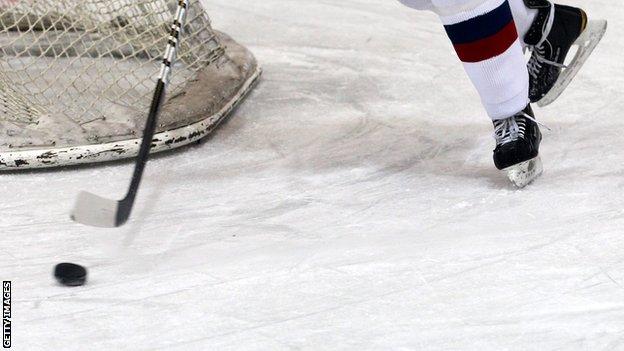 When referee Moray Hanson dropped the puck in a game in Dundee on 18 September 2010, he didn't just start a match. He started one team's history.
It was the first time Braehead Clan had taken to the ice after so many months of planning, preparation and administration.
While it would be harsh to not mention the fact it was Dundee Stars' own first steps into the Elite League, a brand new story was beginning for the Clan.
Inside five years, the club has become a massive success story as they stand within reach of a first ever title.
The first home game against Newcastle Vipers saw 1,669 spectators turn out, with a season average of 1,358 in that first year.
Now, Braehead Arena regularly sells out and the average attendances are just over 3,000.
Yet, Hockey Operations director Gareth Chalmers admits he had his doubts at first.
"I always thought it was a risky move to try and bring ice hockey here after the Ayr Eagles folded," he said.
"To me, Glasgow was a football orientated city and I felt getting it off the ground would be a hard sell. But I think owner Neil Black is thorough and he definitely saw the potential here.
Clan's average attendances
2010-11:1,358
2011-12:1,985
2012-13:2,216
2013-14:2,580
2014-15:3,028
"Now, looking back, the growth's been phenomenal over the last five years and I don't think anybody who's been involved with the club would have expected it to go the way it has."
Coaches Bruce Richardson, Drew Bannister, Jordan Krestanovich, Paul Gardiner have come and gone, with current incumbent Ryan Finnerty just about to complete his second campaign.
Clan have achieved two top half of the table finishes and reached the play-off finals weekend for the first time last year, losing in the semi-final to Sheffield Steelers.
They have even had an NHL star play for them during the 2012 lockout as Drew Miller swapped the red of Detroit Red Wings for the purple of Braehead Clan for three months.
But only one player, Matt Haywood, who played in that very first game at Dundee Stars, remains - and he's seen it all.
"To be there when it all began to now, still playing for the team, I'm pretty honoured by it to be honest," he said.
"My favourite memory has to be playing in the play-off finals. It felt like we broke through a huge barrier having gone close on a couple of occasions before.
"The memory of that weekend is so strong now that it's fuelled something within me that I want to be there every year.
"Not wanting to get ahead of myself, but if we were to win the league, it would be a huge achievement for this club and to be part of it would be unlike anything I'll ever experience."
Braehead are widely recognised as one of the best supported teams and the 'Purple Army' continues to grow.
Braehead Clan coaches
May 2010 - Jun 2011: Bruce Richardson
Jul 2011 - Jun 2012: Drew Bannister
Jun 2012 - Jan 2013: Jordan Krestanovich
Jan 2013 - Apr 2013: Paul Gardiner
Apr 2013 - present: Ryan Finnerty
Diehard fan Brian McJannet, from Ayr, said: "Braehead grabbed me from the word 'go'.
"I helped to organise the bus on that first away trip to Dundee that had 27 people on it and a broken toilet.
"Belfast trips are the ones the fans look forward to. The first one we went on, we took 19 people. The last time we went there a couple of months ago, we took five or six buses.
"For me, there's only one way the club can go and the important thing is keeping the fans coming."
Following such a rapid rise to prominence, what lies ahead for Braehead Clan?
"This whole organisation is all about progression and we've massively exceeding the targets we've set ourselves this season," Chalmers explains.
"Looking ahead, we have the new arena that's been planned and is expected to be opened in 2018, doubling our capacity and presenting a new challenge to get extra bums on seats.
"We aim to be a solid top three team and the bigger picture is beginning development of our own feeder system, bringing through players from Under 10 level to the EIHL team.
"We've got blueprints from other clubs to help put that in place, but essentially, you're looking at growing the hockey club in the long term."
It seems Braehead Clan's growth has only just begun.