Ice Hockey: Scott Neil says Scots side could cause play-off upset
By Craig Anderson
BBC Sport Scotland
Last updated on .From the section Ice hockey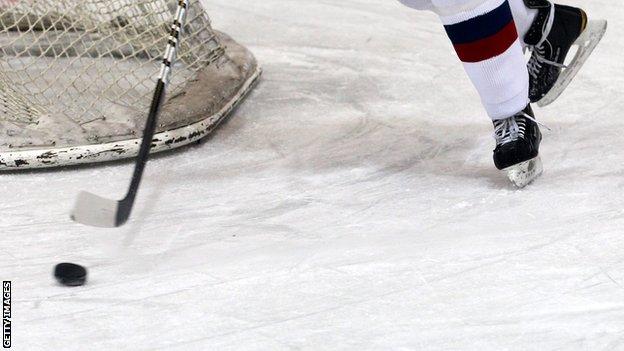 Edinburgh Capitals' co-owner and former player Scott Neil believes there could be a surprise on the cards as the Elite Ice Hockey League moves into the play-offs.
Of the Scots, only two remain as Braehead Clan and Fife Flyers look to return to the finals weekend in Nottingham after getting there last season.
Clan take on Hull Stingrays in their quarter-final while the Flyers have to overcome newly-crowned Elite League champions Sheffield Steelers in their two-legged affair.
"On form, you'd expect Braehead to go through against Hull, but what we have is two intriguing match-ups," he said.
"Fife are the underdogs in their tie with Sheffield Steelers, but for me they aren't a team I would like to face in the play-offs.
"While they haven't always played great this year, they are a formidable side at home and if they can get a result in Kirkcaldy and take it back to Sheffield, they have a chance.
"The Flyers have the talent and the players and are more than capable of springing a surprise.
"Braehead have the edge in their game, but the Stingrays are another team that can upset things over two games.
"For me, there is definitely a potential upset to be on the cards somewhere in this play-off line-up."
Braehead and Fife both went out at the semi-final stage in the showpiece event in Nottingham last year after being the first two Scottish teams to get there in Elite League history.
Unlike other play-offs in other leagues it is a much shorter format with knock-out matches instead of a best of five or seven series preferred in most other countries.
Neil reckons the mentality going into these play-offs is different than the one adopted when chasing a league title, with the shorter format benefiting more of the unfancied teams.
He said: "The shorter format allows players to become more focused than perhaps they would be during the long haul of a league campaign.
"Because it's played over a couple of weekends, that's all they have to prepare as opposed to the games over so many months of the regular season.
"The players and the team have a shorter schedule at this time and it's something all the teams will be thinking, they can have a chance of winning.
"Anything could happen in the play-offs and you could see unfancied teams reaching the finals in Nottingham. It'll be a test of character for some players as we get into the stretch."
But as his Scottish rivals get ready to play in the final stage of the season, Edinburgh Capitals, along with Dundee Stars, are on the outside looking in.
Their lowly league finishes meant they could not qualify and Neil admits it's left him jealous that his team could not at least get into a top-eight position.
He said: "It's frustrating for us because I felt we were a team capable of being in the play-offs and we're a bit jealous we're not getting the chance to take on one of the big teams.
"Our squad could have taken on any of the teams on any given night and caused an upset and you saw that with some of the results we got.
"We've been on long losing streaks then winning ones, and in the end we've came short by a couple of points and that makes it more difficult to swallow.
"We have improved from last season, but we're left looking in from the outside and that's a hard one to take."
PLAY-OFF QUARTER FINAL FIXTURES
Saturday (1st Leg)
Braehead Clan v Hull Stingrays (19:00 GMT)
Fife Flyers v Sheffield Steelers (19:15 GMT)
Sunday (2nd Leg)
Hull Stingrays v Braehead Clan (18:00 BST)
Sheffield Steelers v Fife Flyers (17:00 BST)