Ice Hockey: Braehead Clan and Fife Flyers reflect on play-off losses
By Craig Anderson
BBC Sport Scotland
Last updated on .From the section Ice hockey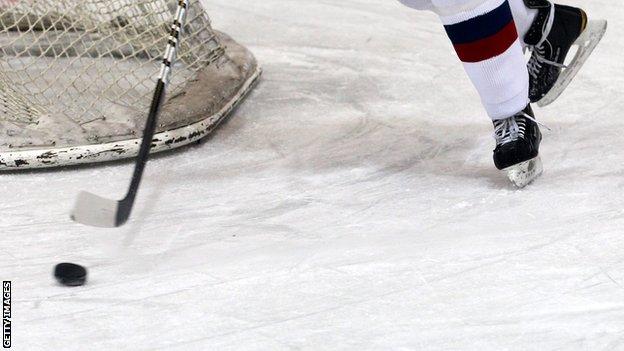 Matt Keith believes Braehead Clan's play-off disappointment can serve them well in the future after they and Fife Flyers missed out of the Elite League finals weekend.
The two Scottish sides had their hopes dashed after going down on aggregate to Hull Stingrays and league champions Sheffield Steelers respectively.
Instead, Steelers will face Hull while Belfast Giants take on Coventry Blaze on 4 April.
For Braehead captain Keith it was a mood of reflection and disappointment as their season came to an abrupt end.
"Anything can happen in a two-game series and the late goal by Hull on Saturday certainly gave them the momentum," he said.
"That said, you can look at the two games and pick out certain other things.
"For example, if I'd scored the penalty shot in the first leg, it would be a 4-1 game instead of what happened.
"The only thing you can say is that's tough at the end of the season, but we have to try and build off the positives we've made here at Braehead and go from there.
"We've had unbelievable support all year from our fans and the organisation is going in the right direction, so those are definite positives there."
That horrible feeling of missing the party will have hit Braehead and Fife fans hard on Monday morning as their play-off hopes lay in tatters.
As four teams' sets of fans look ahead to a trip to Nottingham for the last honour of the season, for the Scots, the pain of seeing the season end here stands out.
Braehead, who finished second in the league, blew a two-goal aggregate in Hull and their chances evaporate in overtime as Carl Lauzon's slapshot flew past Clan goalie Kyle Jones.
While Flyers battled to a point where belief had almost been restored, they can take some consolation from a tie that looked dead.
Ultimately, disappointment was the main emotion coming from Glasgow and Kirkcaldy as their campaigns could not be extended by another week.
On looking back, it was goals in the last minute in Saturday's games that played a big part of the weekend's outcome.
Derek Roehl put the Clan in front in their first leg meeting with the Stingrays, with Zach Hervato levelling, but Neil Trimm restored the home side's lead with a well struck shot.
Roehl made it 3-1, but Matt Keith's penalty shot, saved by Hull goalie David Brown, would have given Ryan Finnerty's side a healthy three-goal lead.
However, Eric Galbraith's late goal got the Stingrays to within a goal going into Sunday's second leg.
It took until the third period for deadlock to be broken in the return game as Matt Haywood found a pocket of space to force the puck over the line.
Zach Hervato and Eric Galbraith made it 2-1 for the hosts on the night and levelled the tie on aggregate.
And, as the game ticked into overtime, Carl Lauzon's slapshot flew past Jones as the Clan's season ground to a sudden halt.
Fife can be a little happier with their play-off bid, even if they ended up having to bow out as Steelers beat them 6-5 over the two legs.
Jamie Milam's opener for Fife was immediately cancelled out by Mike Forney, with Matthieu Roy putting the Steelers in front.
Ned Lukacevic's low shot beat Sheffield goalie Josh Unice to level it at 2-2, but Robert Dowd clinched the first leg win on the night to give them a slender advantage.
Roy and two from Dowd seemed to put Sheffield into an unassailable lead during the second period of the return leg in Yorkshire.
Stephen Gunn and Jordan Fulton pulled the Flyers back into the game before Danny Stewart smashed in an equaliser with five minutes to go.
Steelers still had the overall aggregate lead and managed to hold on, despite plenty of pressure from the Kirkcaldy men.
Flyers' forward Chris Auger reckoned his team got what they deserved from the weekend.
"It's disappointing and inconsistency was the theme again for us," he said. "We didn't end the season with good results, but we put in the performances and the same happened again.
"Ultimately, I think we got what we deserved and, after the start they made, things could have been a lot worse for us.
"We didn't stop believing and, once it got to 3-3, we had nothing to lose and went for it.
"Luckily for Sheffield, they held on and they progress."
Elite League play-off results
Saturday
Braehead Clan 3-2 Hull Stingrays
Fife Flyers 2-3 Sheffield Steelers
Sunday
Hull Stingrays 3-1 Braehead Clan (Hull win 5-4 on aggregate after overtime)
Sheffield Steelers 3-3 Fife Flyers 3 (Sheffield win 6-5 on aggregate)