Andre Deveaux: Ice hockey attack 'prompts arrest warrant'
Last updated on .From the section Ice hockey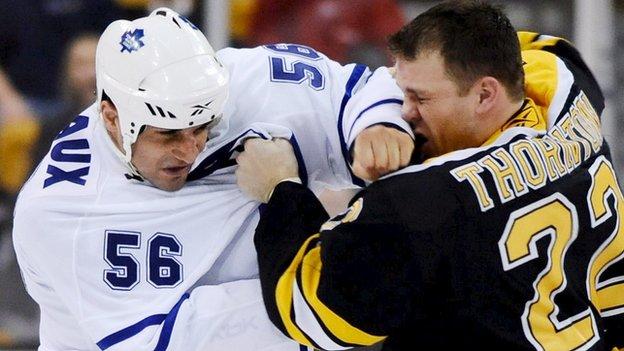 Ex-NHL player Andre Deveaux could face arrest in Sweden after he attacked an opponent on-ice before a play-off game.
The authorities have acted after reviewing video footage of Deveaux charging Per Helmersson to the ice and repeatedly hitting him with his stick, according to TT news agency.
Deveaux was sacked by his club Rogle after they beat Vasteras and he said in a statement his "emotions took over".
Rogle later called the Bahamas-born player's actions "indefensible".
Helmersson was able to play in the game after the incident.
With Rogle, Deveaux incurred 67 penalty minutes in 20 games (3.35 per game suggests a high level of indiscipline). He had 104 penalty minutes across 31 NHL games (also 3.35 per game) with the Toronto Maple Leafs and New York Rangers.