Ice Hockey World Championship: GB clinch dramatic win vs Croatia
Last updated on .From the section Ice hockey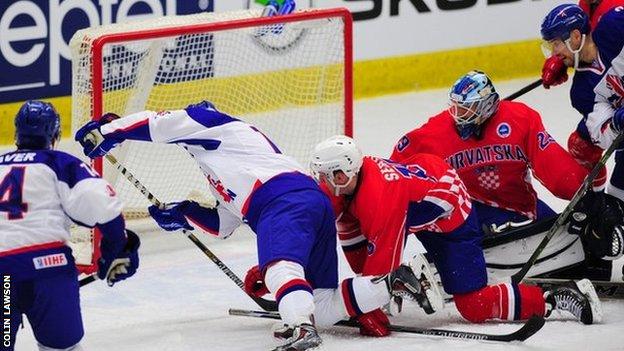 Two goals from Mark Richardson gave Great Britain a dramatic 3-2 overtime win against Croatia in their opening game in Division 1 Group B of the World Championships in Eindhoven.
The Cardiff Devils player made it 2-2 with five seconds left and then scored the winner 11 seconds into overtime.
GB had trailed 2-0 with seven minutes left when Ben O'Connor got their first.
The game was the first of five in seven days for GB's inexperienced side in the third tier of the World Championships.
GB schedule
Monday 13 April: GB 3-2 Croatia
Tuesday 14 April: GB v Estonia
Thursday 16 April: GB v South Korea
Saturday 18 April: GB v Netherlands
Sunday 19 April: GB v Lithuania
Their opponents include hosts the Netherlands, and South Korea, who as hosts of the 2018 Winter Olympics are investing heavily in ice hockey.
Britain have not competed in ice hockey at an Olympics since 1948.
Croatia went ahead through Michael Glumac in the first period, with Nathan Perkovich doubling the lead in the third, but GB got their reward after sustained pressure in the closing stages.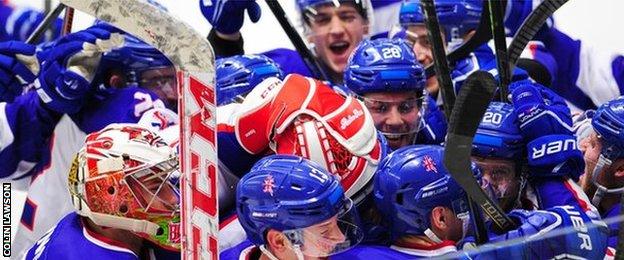 "They pulled it out of the bag, I thought we we were first class and deserved it," said coach Pete Russell.
"It's one game at a time, but it's a nice way to win. There are two kinds of hockey players, the honest ones and the rest, and they're honest hockey players."
GB's next outing is against Estonia at 12:30 BST on Tuesday, 14 April.