Ice hockey: Ben Davies returns to Braehead Clan
Last updated on .From the section Ice hockey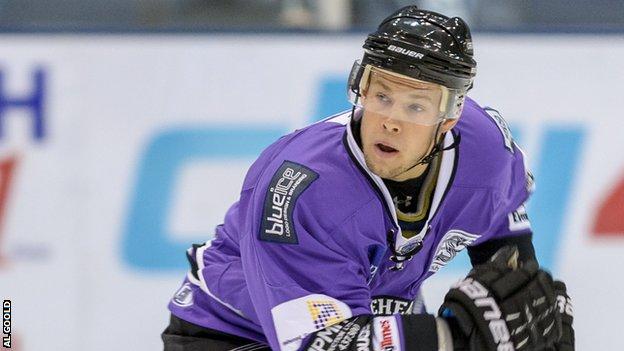 Welsh forward Ben Davies is returning to Braehead Clan for the 2015-16 season, the club has announced.
The 24-year-old former Cardiff Devil joined the club last summer and made 62 appearances, scoring nine and assisting in 22 goals before leaving last month.
He is looking to improve on that tally on his return for the new campaign.
He said: "I loved being around the team and the set-up in Glasgow. When the club asked me about the possibility of coming back, I was thrilled."
Davies added: "Coming to Scotland was a change for me after being in Cardiff for a number of years and I couldn't have been happier at how it all went.
"I want to improve on the points total I got last season. For me, it wasn't as good as what I had a couple of years ago at Cardiff and I'm keen to better that.
"Away from the team aspect, I set myself goals and one thing I have already looked at is the amount of goals and assists and I'm hopeful of achieving that."
Braehead Clan will find out later this week who they will face in the Champions Hockey League - their first European competition - in August, the month before the Elite Ice Hockey League season begins.
Davies, who had four seasons with Cardiff, said: "Not doing as well as we would have hoped in the play-offs (last season) hurt, but qualifying for the CHL is a huge positive to take from the campaign.
"Looking ahead to the draw, there isn't so much teams I'd like us to play, more countries I'd like to visit I suppose.
"Somewhere like Finland and Switzerland would be nice, but just being involved is an exciting prospect and it's definitely something to look forward to."