Andrew Shaw scores 'greatest ice hockey goal that never was'
Last updated on .From the section Ice hockey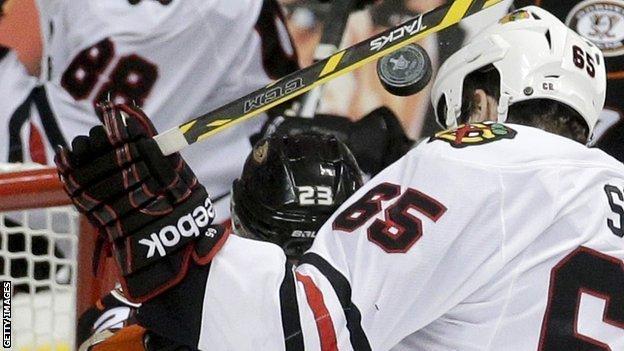 An ice hockey puck can reach speeds of 100mph or more but that did not stop one Canadian player from deciding to head one into the net.
The 23-year-old raced away to celebrate but officials ruled the effort out, citing NHL rules which state goals can only be deliberately scored with use of the stick.
"I understand, but I think if anyone can ever pull that off it should still be a goal," Shaw said. "I was just out there using my head."
American broadcaster NBC called the goal "the greatest that never was" and on social media some fans joked that the player would soon be signed up by Manchester United and Barcelona.

Blackhawks forward Patrick Sharpe said: "That was a heck of a play. I'm not sure why that's not allowed. I know it's in the rule book but that's a pretty athletic play and a pretty entertaining play as well."
Shaw's effort in the second period of overtime ended a scramble near the Anaheim goal as he leapt to apply the finishing touch but after a review by officials, celebrations were ended.
If that was not enough entertainment, the Blackhawks eventually took the match 3-2, needing three periods of overtime in what was the longest match in their 89-year history and the 17th longest ever in the NHL.
It tied their best of seven series at 1-1 ahead of game three on Thursday where after Shaw's rare attempt, no one on the ice will be in any doubt as to the rules on headed goals.