Theo Peckham: Nottingham Panthers lose former NHL d-man
Last updated on .From the section Ice hockey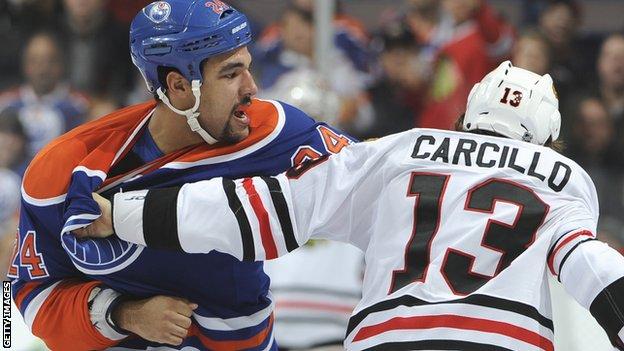 Former NHL defenceman Theo Peckham has pulled out of a deal to join Elite League side Nottingham Panthers.
The 27-year-old played 160 games in a six-year spell with Edmonton Oilers.
A club spokeswomen told the Panthers website: "We're all bitterly disappointed at the news and the timing of it.
"As they say, one door closes and another opens. Just a few weeks ago we lost a player and ended up signing Cam Janssen. We'll just get on with it."
Peckham was one of a number of high-profile signings in the off-season for head coach Corey Neilson and Panthers say he had contacted the club only 24 hours ago to say a glitch on his visa application had been ironed out.
The statement continued: "It's no good venting our anger in public but a lot of time and effort, never mind costs, had already been put in this, as we do with all the signings.
"Corey has drawn up a new shortlist and was working on it until the early hours and was straight back on the case as soon as morning skate ended today."
Peckham is the second player to change his mind about joining the club, after forward Eric Lizon pulled out of a deal for personal reasons.