Belfast Giants lose 6-3 to Dundee Stars in second friendly
Last updated on .From the section Ice hockey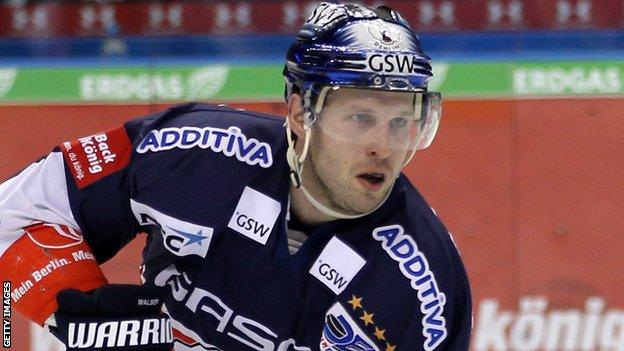 The Belfast Giants lost 6-3 to Dundee Stars in their second friendly of the weekend in Scotland on Sunday, having drawn 4-4 with Fife Flyers on Saturday.
Mike Forney (2) and Darryl Lloyd were the scorers for the Giants, who trailed throughout the contest.
Lou Dickensen (2), John Dolan, Justin Faryna, Riley Wetmore and Curtis Leinweber were on target for Dundee.
New Giants player-coach Derrick Walser got his name on the scoresheet in the draw with the Flyers.
The Giants trailed by two goals early on but Jonathon Boxill found the net before the end of the first period.
Walser tied the game and then Craig Peacock scored on the powerplay to make it 3-2 at the end of the second period.
Michael Dorr levelled on the powerplay, Jeff Lee edged Fife 4-3 ahead with six minutes left, but Chris Higgins scored.
It took Fife 57 seconds to get on the score sheet when a pinpoint pass from Lee found Shayne Stockton's stick, who placed the puck in the top corner of Stephen Murphy's net, and set off a huge cheer around Fife Ice Arena.
TJ Caig doubled Flyers' lead at 3:12 after Kyle Haines found a pass in front of the Giants net.
It was proving to be a not so friendly game, with many hits being thrown by both sides.
Belfast pulled one goal back late in the first period when Boxill scored at 19:39 but after the teams emerged for the second period, Walser tied the game up at 2-2 after 22:40.
The hits continued to come throughout the second period from both teams but it was Belfast who scored the next goal when Peacock scored at 32:10.
The final period saw Flyers tie up the game when Dorr scored on the powerplay at 49:57 as Brandon Benedict sat in the penalty box for slashing.
Lee and Higgins found the net to ensure that the sides left with a share of the spoils.
The Giants will start their Challenge Cup campaign with away trips to Dundee and Edinburgh Capitals on 4 and 5 September.