Elite League: Belfast Giants beat Nottingham in overtime
Last updated on .From the section Ice hockey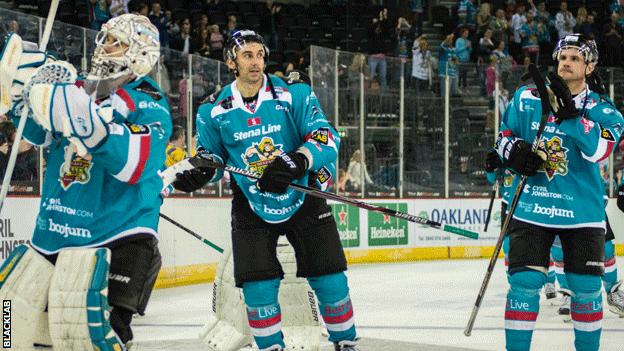 The Belfast Giants followed up their 6-2 home win over Manchester Storm on Saturday by beating Nottingham Panthers 2-1 after overtime on Sunday.
The Elite League match at the National Ice Arena was tied 1-1 after the third period but Kris Beech found the net in the first period of overtime.
Chris Higgins gave the Giants the lead in the second period, but Geoff Waugh replied in the third period.
Belfast came from 2-1 down to beat Manchester in their first home game.
Craig Peacock gave the Giants the lead but Manchester led by a goal after the first period thanks to goals from Matthew Sisca and Vinny Scarsella.
The Giants took control in the second period with Johan Ejdepalm, Brandon Benedict and Peacock finding the net.
Jonathan Boxill scored early in the third period, before Mike Forney completed the scoring and make it 6-2.
The start of the game was delayed to accommodate the demand of spectators filling the SSE Arena as the Giants' first home game of the season attracted the biggest first night crowd in 13 years.
Penalties proved crucial in the opening period as the three goals were scored on powerplays.
Peacock opened proceedings, squeezing the puck in from close range with less than two minutes played.
However, Storm soon replied as Sisca equalised while Belfast's Adam Keefe was off the ice serving a two minute penalty for interference.
The visitors then took the initiative, exploiting Matt Nickerson's absence for crosschecking, with Scarsella scoring to give Storm a surprise 2-1 lead at the end of the first period.
Swedish new signing Ejdepalm scored the equaliser after 32 minutes of the contest before the Storm were hit by a two-goal salvo in the space of thirty seconds.
Benedict converted a wonderful Chris Higgins pass to make it 3-2 - and almost immediately it was 4-2 as Peacock fired home a fine goal for his second of the evening.
Boxill scored his first goal in front of the home fans early in the third period before Mike Forney profited from the wizardry of Chris Higgins who set up the sixth and final Giants' goal of the evening.