Meeting leads to Braehead Clan revival in Coventry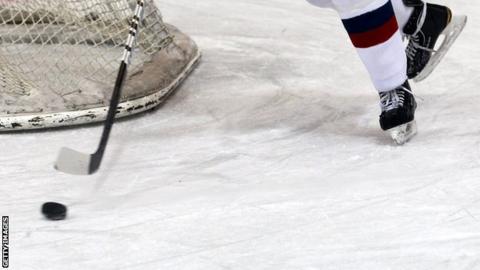 Braehead Clan captain Matt Keith admits there was pressure on his team after a run of five losses before they scraped out an overtime win in Coventry.
The weekend began with a 6-2 drubbing at Edinburgh Capitals, which left the Clan bottom of the Elite League and without a league victory at that point.
The Canadian revealed Saturday's loss sparked a meeting among the players before they took on the Blaze.
"It was a wake-up call to the team," Keith said.
"We had a team meeting before Coventry to try and put things right.
"There had been pressure on us, especially after how well last season went, but we dug out and battled for what I regard to be a team win on Sunday.
"As a team, we were relieved after that and it's a huge stepping stone to take back to our home games next week."
The weekend ended in victory finally for the Clan, who return to Glasgow after their eight games on the road and can at least be happy they ended that five game losing run.
It started well in Edinburgh on Saturday as Matt Haywood opened the scoring for Clan, but Taylor Dickin and two from Paul Zanette turned the game on its head before Craig McCallum scored a hat-trick.
Ric Jackman scored a consolation late on to reduced the arrears, but it was too little, too late.
But 24 hours later, Ryan Finnerty's men returned to Glasgow having snapped that poor run with a 1-0 overtime win at Coventry Blaze.
Although netminder Chris Holt was man of the match for another stellar display, it was Jackman who came up with the goods in overtime to bring the points back to Scotland.
After eight consecutive away games, they can look forward to home comforts against Fife Flyers and Dundee Stars this weekend.
As for Edinburgh, they couldn't keep Saturday's feelgood factor going and were beaten 4-0 by Cardiff Devils in South Wales.
Joey Haddad and Leigh Salters put the Devils two up in the second period, before Zach Hervato and a second from Haddad guaranteed the points for Cardiff.
Despite the loss, Caps forward McCallum, their hat-trick hero on Saturday can see his team are growing with every game.
He said: "Beating Braehead was a great confidence booster and we've made some great strides this season. I feel like we're building something better and we're getting to where we want to be.
"There's definitely a chemistry building in this team and everything is looking positive as the games and weeks go on."
Caps' loss in Cardiff was the second Scottish scalp for the Welshman at the weekend, who edged Dundee Stars 3-2 on Saturday night.
Doug Clarkson netted for the Stars against his old team, but Tomas Kurka equalised for the Devils as both sides played out a tightly fought contest.
Guillaume Doucet put Cardiff in front early in the third period, but despite Mikael Lidhammar restoring parity, Brent Walton claimed the points four minutes from time for last season's Challenge Cup winners.
The Stars took on Fife Flyers on Sunday, but the Kirkcaldy side had to contend with a visit by Manchester Storm first on Saturday, needing penalty shots to overcome them 5-4.
Shsyne Stockton's opener for Flyers was cancelled out by Matt Caria before Patrik Valcka put Storm ahead, only for Michael Dorr to level for the home team.
Justin Fox and another from Dorr opened up a 4-2 lead, but Mathew Sisca reduced the arrears to one before Caria levelled the game in the third period. Fox took the win with the decisive penalty shot.
Then it was on to Tayside where the Stars and Flyers renewed old acquaintances, with Dundee edging their Kirkcaldy rivals in a 2-1 win.
The home team got the best possible start when Clarkson's turn and shot beat Fife goalie David Brown and Dundee were in front within the opening minute.
Flyers got themselves back on level terms through Jeff Lee, but Brett Switzer came up trumps with a powerplay goal late in the third period to seal victory for Marc Lefebvre's side.
WEEKEND RESULTS
Saturday
Cardiff Devils 3-2 Dundee Stars (League)
Edinburgh Capitals 6-2 Braehead Clan (League)
Fife Flyers 5-4 Manchester Storm PS (League)
Sunday
Cardiff Devils 4-0 Edinburgh Capitals (League)
Coventry Blaze 0-1 Braehead Clan OT (League)
Dundee Stars 3-2 Fife Flyers (Challenge Cup)