Fife Flyers go six games without a win
By Craig Anderson
For BBC Sport Scotland
Last updated on .From the section Ice hockey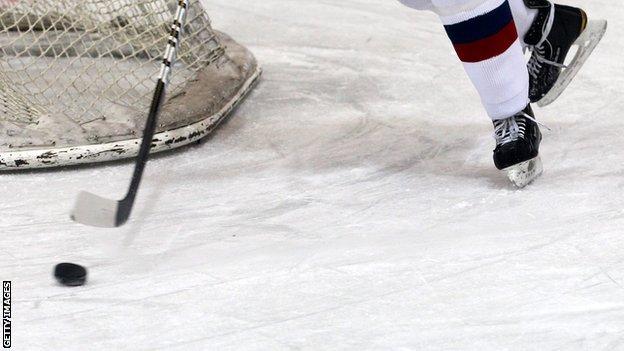 Fife Flyers' associate coach Danny Stewart equalled the appearance record for an import in the EIHL this weekend.
However, he was not interested after his team suffered another poor weekend.
The Canadian has made 562 outings in the UK league, equalling the tally set by Gerad Adams, who coached Sheffield Steelers to the league title last season.
"As far as reaching the appearance record goes, it's really irrelevant to me at this point," said Stewart.
The Flyers went from 4-0 up at Edinburgh Capitals to a 5-4 overtime loss at Murrayfield.
He said: "Being 4-0 up, we had to be smarter. We didn't tell the guys to sit back, we didn't change anything with our plan and told the players to continue on.
"I'm not going to make excuses for the players and we're out of them now. We played two fantastic periods in Edinburgh and the guys did what we wanted them to do.
"But if you continue to make mistakes, as we have, then you have to be held accountable for them. Everyone's to blame for what happened in Edinburgh."
He added: "I'm fortunate to have been in the game a long time, but I'm concentrating on just winning hockey games right now."
The Flyers are now without a win in their last six games and sit bottom of the table with only four points from their eight matches so far.
They hosted Dundee Stars on Saturday and played catch-up from the first period as former Flyer Bobby Chaumont opened the scoring in a 4-1 loss.
Riley Wetmore and John Dolan had the Tayside men 3-0 up by the end of the second until Ryan Dingle pulled one back in the third.
Lou Dickenson rounded things off with Stars' fourth as Fife stared into the abyss of defeat once again.
In Edinburgh on Sunday, they were going so well. At 4-0 up, it looked like the losing run was coming to an end after Shayne Stockton, Stephen Gunn, Stewart and Phillipe Paquet put them in control.
However Jacob Johnston's two for Edinburgh rattled them as Trevor Gerling and Taylor Dickin pulled Edinburgh level, before Paul Zanette struck the fatal blow in overtime for Riley Emmerson's men.
For the Caps, it was a big improvement on their display at Braehead Clan, where they went down 5-1, just days after a heroic penalty shots win over Sheffield Steelers in midweek.
Nate Fleming's bobbled shot gave the Capitals took an early lead, but Clan turned the game in their favour through Stefan Meyer, Marcus Gotz, Alex Leavitt, Chris Bruton and Lee Esders.
Ryan Finnerty's men, who beat Manchester Storm 4-3 on Thursday, couldn't make it three wins from three this week, but took a point from a 5-4 overtime loss at Sheffield Steelers.
Jeff Legue's opener was cancelled out by Nathan Maciver before the Clan opened a two-goal cushion through strikes by Brandon Brooks and Stefan Meyer.
The Steelers fought back though as Chris Lawrence and Jason Hewitt levelled things up, with Ben O'Connor being awarded the winning goal in the extra period, although it should have been Lawrence's.
As for Dundee Stars, they followed up Saturday's success in Fife with another relatively comfortable victory, making easy meat of Manchester Storm in a 5-1 victory on Sunday.
Kevin Hart put the home side in front during the first period, but they really kicked on in the second session as Riley Wetmore and Bobby Chaumont increased their lead to three after two periods.
Matt Caria found the net for the away side early in the third session, but the Stars pulled further ahead through Doug Clarkson and Mikael Lidhammar to take the points.
RESULTS:
Wednesday
Sheffield Steelers 4 Edinburgh Capitals 5 SO (League)
Thursday
Braehead Clan 4 Manchester Storm 3 (League)
Saturday
Braehead Clan 5 Edinburgh Capitals 1 (League/Challenge Cup)
Dundee Stars 4 Fife Flyers 1 (League)
Sunday
Dundee Stars 5 Manchester Storm 1 (League)
Edinburgh Capitals 5 Fife Flyers 4 OT (League)
Sheffield Steelers 4 Braehead Clan 3 OT (League)