Kyle Haines sack warning to Fife Flyers team-mates
By Craig Anderson
For BBC Sport Scotland
Last updated on .From the section Ice hockey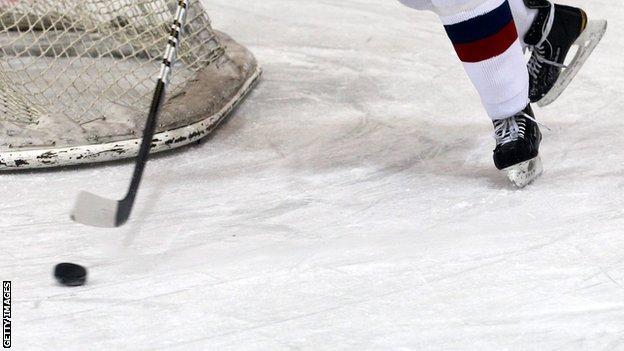 Kyle Haines has warned his Fife Flyers team-mates to start getting on board or they'll end up sacked.
The Flyers skipper was referring to comments made by head coach Todd Dutiaume who spoke of possible changes to their line-up.
"The coach talking about making changes can affect everybody differently," said Haines.
"But, we are in the profession of winning hockey games and we're not doing that right now."
And, on the back of two weekend defeats to Belfast Giants, Haines reckons those comments can bring varying reactions to players.
"If you're not doing your job, you're going to get sacked so we have to figure it out, the guys have to get on board and get this train rolling in the right direction.
"It's been a streaky season for us. We'll win a few, then lose a bunch then win some more and we have to be more a consistent team and put the sort of effort in we showed against Belfast.
"There was a lot to be positive about and we focussed on being a little tighter defensively and I think we did a pretty good job of that, keeping Belfast to a minimal amount of shots.
Flyers and Belfast completed their Challenge Cup group fixtures, knowing they would both be in the quarter finals, but it was the Giants that took top spot with Sunday's win, ahead of Braehead Clan.
Saturday's first meeting in Kirkcaldy saw the Giants claim a 3-0 win, with Chris Higgins finding the net in the second period, followed by Adam Keefe and Darryl Lloyd doing the same in the third.
The game moved to Northern Ireland on Sunday where Flyers made it five without victory, despite clawing back a two-goal deficit.
Mike Radja and Craig Peacock had Belfast two up, before Nicholas Rioux pulled one back followed by Justin Fox levelling in the third, but Radja's second tied things up for Derrick Walser's men, who won 3-2.
Edinburgh Capitals faced Nottingham Panthers in a double header over the weekend, losing one and winning one as Riley Emmerson's side continued to pick up some good results.
A third period turnaround saw the Caps go from a 2-1 advantage to a 3-2 loss on Friday in a match that yielded plenty of positives.
Callum Boyd and David Rutherford put Edinburgh in front, but the visitors hit back through Brad Moran and Evan Mosey before Juraj Kolnik popped up with Nottingham's winner.
They did it all again 24 hours later and again, the Capitals went into a lead before being pegged back by Corey Neilson's outfit.
Goals from David Rutherford, Trevor Gerling and Kyle Bigos were soon pegged by Kolnik and Bryan Schmidt before Gerling restored a two-goal lead.
Andy Bohmbach made it 4-3 late on before Ryan Hayes killed the Panthers off with an empty net goal in the final minute to keep the points in Edinburgh.
Braehead Clan were on the road for their two games this weekend and had to come from 4-1 down to win 6-4 in their first ever visit to Manchester Storm.
Luke Salazar and David Phillips put the Storm in front before Brendan Brooks pulled one back, but further goals from Patrik Valcak and Vinny Scarsella had the Clan fans fearing the worst.
Alex Leavitt struck a hat-trick, along with one by Matt Keith to give Braehead the lead until Thomas Nesbitt fired in a late one to confirm the points.
From there Ryan Finnerty took his team to Sheffield Steelers on Sunday and they made it four points out of four with a narrow 2-1 win over the league champions.
Brendan Brooks and Bari Mckenzie were on target, but Robert Dowd pulled one back in the final minutes to set up a tense finish, but the Glasgow side took the points.
Dundee Stars played only the once at the weekend and Riley Wetmore's winner clinched the points for Marc Lefebvre's side, who defeated Cardiff Devils 5-4.
Bobby Chaumont's opener was cancelled out by Guillaume Doucet, before Curtis Leinweber and Justin Farina increased the lead.
Jake Morissette clawed one back for the Devils, but Chaumont restored the two-goal lead, only for Zach Hervato and Tyson Marsh to tie things up at 4-4 before Wetmore came up trumps.
RESULTS (all matches are league games unless stated):
Friday
Edinburgh Capitals 2 Nottingham Panthers 3
Saturday
Edinburgh Capitals 5 Nottingham Panthers 3
Fife Flyers 0 Belfast Giants 3 (Challenge Cup)
Manchester Storm 4 Braehead Clan 6
Sunday
Belfast Giants 3 Fife Flyers 2 (Challenge Cup)
Dundee Stars vs Cardiff Devils
Sheffield Steelers 1 Braehead Clan 2