Thriller pays homage to Edinburgh Capitals legend Tony Hand
By Craig Anderson
For BBC Sport Scotland
Last updated on .From the section Ice hockey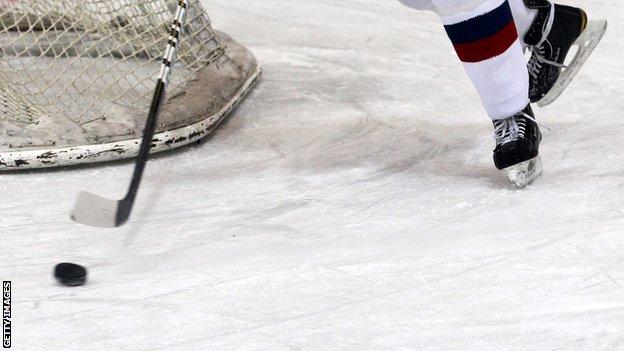 Tony Hand saw his Edinburgh Capitals number nine jersey retired by the club before their game with Dundee Stars - before they shared 20 goals.
Dundee took the points in an 11-9 Murrayfield thriller.
He said: "It's one of those occasions that's very humbling where the town you're from and a team you played for the first part of your career bestow this honour on you.
It took him back to his days at Murrayfield Racers in the 80's.
"I've had a great day and I'm very grateful to the club for everything they've done, as well as the fans, who turned out for this occasion," said Hand.
"There were even some fans from my current club, Manchester Phoenix that made the journey up which was great to see. It's been a proud day for me and my family and one we'll never forget."
Following the ceremony to retire the Edinburgh legend's jersey, fans got to witness one of the craziest games they'll possibly ever see.
A backwards and forwards affair finished 11-9 for Dundee Stars and it all began with Trevor Gerling and Callum Boyd's goals for the Caps which were wiped out by Brett Switzer's double.
Taylor Dickin and Lou Dickenson both scored one apiece to cancel each side out again, with Riley Wetmore adding a fourth for Dundee shortly after.
Craig McCallum and a second from Dickin turned the game in Edinburgh's favour before Jason Gray bundled the puck to level the game at 5-5.
Ryan Hayes, Kyle Bigos and Gerling added numbers six, seven and eight for the Caps followed by Bobby Chaumont and John Dolan reducing the arrears to one at 8-7.
Then the game turned on its head as Jason Gray equalised before Chaumont put the Stars in front before Gerling added his third to restore parity at 9-9.
Chaumont and Doug Clarkson struck in the last minute to take the nab the points in what turned into the highest scoring game in EIHL history.
Edinburgh's player-coach Riley Emmerson was far from a happy man afterwards.
He said: "That was embarrassing. I don't care how many goals were scored. We lost six goals in the final period and my job has been made more difficult as I try to prepare for next week.
"When we had the lead, all we had to do was defend, especially at 8-5 up and I felt for Carsen Chubak, our goalie, who we hung out to dry and I include myself in that."
For the Stars, it had been a mixed weekend up to this point having won one and lost one in their other two games of the weekend.
They began at home to Fife Flyers on Friday night and despite outshooting their Kirkcaldy rivals by more than double the efforts, they went down 1-0, courtesy of Stephen Gunn's first period goal.
They got those points back on the road at Manchester Storm on Saturday in a 6-4 victory, which began with goals from Wetmore and Curtis Leinweber.
Patrik Valcak pulled one back for the Storm, but a double from Switzer and one from Dolan made it a comfortable 5-1 lead.
Ricards Birzinsh and Valcak, with his second, reduced the deficit, but Switzer nabbed his hat-trick to seal the points, despite Matt Caria clawing another back for the home team.
After Friday's smash and grab win, Flyers had to contend with a double header with Braehead Clan, starting at home on Saturday and impressively came from 2-0 down to win 3-2.
Braehead looked to be cruising after two periods, despite only being the two up as Matt Keith and Matt Haywood both found the net.
The Flyers hit two in the first three minutes of the third as Shayne Stockton and Justin Fox pulled their side level before Michael Dorr struck the killer blow to keep the points in Kirkcaldy.
It was an instant rematch in Glasgow on Saturday as Clan were on hosting duties and like Saturday, found themselves two goals up, courtesy of a Stefan Meyer double.
But instead of collapsing in the third, Ryan Finnerty's men finished the job as Ben Davies' penalty shot settled the match and the points.
RESULTS (all matches are league games unless stated):
Friday
Dundee Stars 0 Fife Flyers 1
Saturday
Fife Flyers 3 Braehead Clan 2
Manchester Storm 4 Dundee Stars 6
Sunday
Braehead Clan 3 Fife Flyers 0
Edinburgh Capitals 9 Dundee Stars 11