Scottish ice hockey round-up: Clan beat Edinburgh but lose to Cardiff
By Craig Anderson
For BBC Scotland
Last updated on .From the section Ice hockey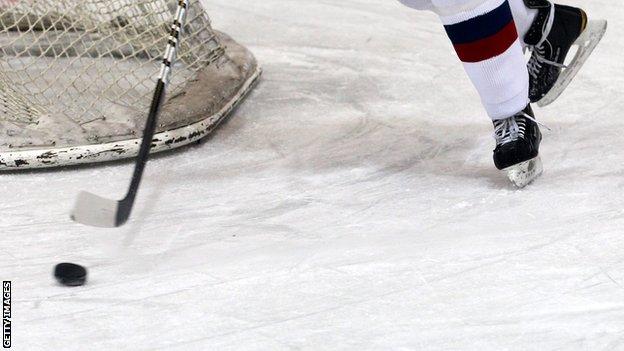 Braehead Clan forward Chris Bruton has admitted there is pressure on him and the other forwards to deliver more goals.
Clan finished a home double header with three points out of four after losing in overtime to Cardiff Devils then beating Edinburgh Capitals 2-1 on Sunday.
But the Canadian forward hopes his team can embark on a winning run, and sees Sunday's result as a starting point.
"We've been feeling some pressure in the last few weeks just to start putting some wins together, especially in front of our home crowd," Bruton said.
"It was two games where we had loads of chances and came up against two goalies in good form and I know it's frustrating for the guys as well as the coach.
"It's putting pressure on us in the forward lines to score the goals and we know it. At the end of the day, if we start getting those wins, those pucks will bounce the right way for us.
"Sunday's result is a good starting point for our team and we showed character in closing the game out and the capability of doing that and we did it tonight.
Despite Bruton's somewhat gloomy appraisal, the Clan can take plenty of positives from a weekend that ended with three points out of four in two home games.
Starting against Cardiff Devils on Saturday, it was a game that could really have gone either way, but ended in overtime heartache.
Guillaume Doucet scrambled in a winner in the extra time to dump Braehead where the result was the only negative.
The night before Cardiff had suffered overtime heartache of their own in the first of their three games north of the border as they squandered a 3-0 lead to lose 4-3 to Edinburgh Capitals.
Andrew Hotham, Chris Culligan and Zach Hervato thought they had the Welsh side home and dry in Murrayfield with a 3-0 lead.
But Sean Beattie, Nate Fleming and Jacob Johnston struck back for Edinburgh to take the game to overtime, where Johnston struck again to kill the Devils off.
With that in mind, Riley Emmerson took his men along the M8 to Glasgow on Sunday and despite taking the lead through Ryan Hayes in the opening period, Clan turned the game.
Tristan Harper found the net shortly after, then Bruton scrambled in the winner to effectively seal the points for Ryan Finnerty's side.
Two goals from Michael Dorr made a difference as Fife Flyers took both points in a 5-3 victory over Dundee Stars in Kirkcaldy.
The home side took a 2-0 lead after the opening period when Michael Dorr swept home a shot from close range for the opener followed by Danny Stewart adding the second. Dorr added his second and Fife's third in the second period, before
Curtis Leinweber pull one back for Dundee shortly after.
However Justin Fox and Phillipe Pacquet had Flyers with a four-goal lead, but despite Kevin Hart and Lou Dickenson reducing the deficit, Fife took the victory.
They couldn't build on their Saturday victory over the Tayside outfit as they visited Sheffield Steelers on Sunday, leaving with a 3-1 defeat to the league champions.
Steelers were three up over the course of the opening two periods as Jace Coyle, Colton Fretter and Guillaume Desbiens put them in front.
However, Shayne Stockton pulled one back for the Flyers which proved to be nothing more than a consolation in the end.
Cardiff rounded off their weekend in Dundee on Sunday and ended their trip to Scotland with five points from six, beating the Stars 6-5 in overtime.
The Welsh side opened the scoring through Joey Martin, but Dundee pulled level seven minutes later as Mikael Lidhammar found the net.
Leigh Salters, Tomas Kurka and Zach Hervato put the Devils 4-1 ahead, but the Stars pulled things level through Bobby Chaumont, Justin Faryna and Lou Dickenson.
Carl Hudson's goal was cancelled out by Chaumont to take the game to overtime, but Dundee's hearts were broken as Mark Richardson fired in the winner.
WEEKEND RESULTS
Friday
Edinburgh Capitals 4 Cardiff Devils 3 (OT)
Saturday
Braehead Clan 0 Cardiff Devils 1 (OT)
Fife Flyers 5 Dundee Stars 3
Sunday
Braehead Clan 2 Edinburgh Capitals 1
Dundee Stars 5 Cardiff Devils 6 (OT)
Sheffield Steelers 3 Fife Flyers 1