Key losses can help rest of Edinburgh players - Riley Emmerson
By Craig Anderson
For BBC Sport Scotland
Last updated on .From the section Ice hockey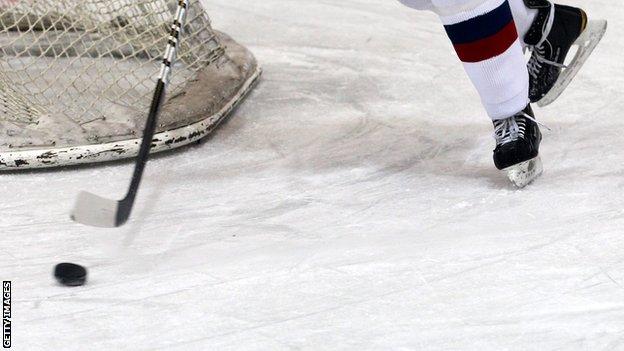 Edinburgh Capitals player-coach Riley Emmerson says losing two key players can help the rest of the team.
Elite League top scorer Ryan Hayes joined Sheffield Steelers earlier in the week, while David Rutherford's moved to Belfast Giants on Saturday.
Rutherford's exit was announced just hours before their home visit by Manchester Storm that night.
"Losing the players we have this week has been tough, especially when we had such high hopes in November," he said.
"I can accept it can be a culture for players coming here, but they were made aware of it and perhaps view it as a stepping stone to get better.
"Losing Ryan and David has opened doors for other players in our team. Trevor Gerling scored a hat-trick and Paul Zanette picked up six points in the game for example.
"Hopefully we can get some good players in this week and get them ready to go. We're only four points away from the play-offs and we're far from out of it yet."
The losses suffered by the Caps seemed to affect them in the first period as they were 5-1 down as two from Matt Paton and a hat-trick from Matthew Sisca sent them surging ahead.
Gerling nabbed the Caps' goal in that period and Zanette reduced the arrears further, but Caria restored the four-goal gap with Gerling picking up his second.
Vinny Scarsella soon made it 7-3 for the visitors, but Edinburgh began to claw their way back through Kyle Bigos and another from Zanette, but it wasn't enough in the end.
For Manchester Storm, it was a good end to their two-game visit to Scotland after losing 5-2 at Braehead Clan on Friday night.
Ben Davies opened the scoring for the Clan with a low shot with Matt Keith adding a second before Bari McKenzie and Brendan Brooks netted to open up a four-goal lead.
Storm hit back through Paul Phillips, but the four-goal lead was re-established as an error allowed Scott Pitt to finish one shorthanded.
Sisca pulled another back for the visitors, before Brooks added his second of the game to kill Storm off, but Sisca added his second to cut the lead to three with a sweeping finish.
Ryan Finnerty's men then made it four points from the weekend as they shutout Coventry Blaze on Saturday for the third time this season in a 3-0 home win.
Chris Bruton opened the scoring in the second period with Brendan Brooks and Ben Davies adding further strikes late in the third to complete a successful weekend.
Fife Flyers let a home lead slip for the second week in a row as they went from 2-0 up to lose 5-3 to rivals Dundee Stars.
Ryan Dingle and TJ Caig put Fife two up, but Justin Faryna pulled one back for the Stars, before Bobby Chaumont, Mikael Lidhammar and Doug Clarkson turned the game around.
Faryna applied his second to increase the lead in the third, which proved to be the one that clinched the points for the Tayside team.
Flyers went to Manchester as the English side completed their weekend of Scottish encounters, with the Kirkcaldy men taking a 7-6 win after penalty shots.
Caig and Matt Caria both traded goals to start off then Grant Toulmin fired them in front, but Justin Fox scored twice - either side of a goal by Paul Phillips and it was 3-3.
Dingle then Phillips with his second of the game kept the game locked, as did goals for Michael Dorr and Devin DiDiomete for either team.
Then Shayne Stockton and Toulmin did the same, sending the game to overtime then penalties, where Fox finished the Storm off.
Dundee Stars saw their hopes of taking points at Coventry Blaze on Sunday dashed as the play-off champions gunned them down by winning 4-3 in overtime.
Drew Fisher cancelled out Chaumont's opener, before Lou Dickenson restored the Stars' advantage in the first period.
Russell Cowley drew Blaze level in the second followed by Craig Moore and Ashley Tait trading goals in the third, but Michael Quesnele took the points for Blaze in overtime.
WEEKEND RESULTS
Friday
Braehead Clan 5 Manchester Storm 2
Saturday
Braehead Clan 3 Coventry Blaze 0
Edinburgh Capitals 6 Manchester Storm 7
Fife Flyers 3 Dundee Stars 5
Sunday
Coventry Blaze 4 Dundee Stars 3 (PS)
Manchester Storm 6 Fife Flyers 7 (PS)