Ice hockey: Ryan Finnerty avoids Braehead Clan title talk
By Craig Anderson
For BBC Sport Scotland
Last updated on .From the section Ice hockey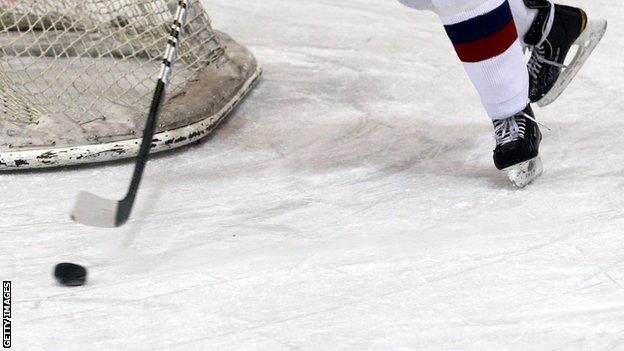 Braehead Clan head coach Ryan Finnerty is refusing to talk about his side's chances in the Elite League title race.
The Clan are third, five points behind leaders Cardiff Devils with four games in hand, with 10 wins in their last 11.
But the Canadian was pleased to see his powerplay finally click with four of his side's eight goals coming when his team had a man advantage on the ice.
"It's pointless to talk about something like the title three months in advance," he said.
"There's still plenty of hockey left to be played so it's not worth discussing at this stage.
"At this time of the year, it's all about gathering points and moving on. That's exactly what we did this weekend.
"Getting the powerplay going in the last couple of games has been particularly pleasing for us and it's an area we've struggled to get going this season. It's finally showing signs of life."
Finnerty may not be willing to talk about the Elite League title race, but even privately, he'll be delighted at the position his team are in at this stage.
Four points at the weekend saw them cement their top three place and after inconsistency for the first half of the season, things are finally going their way.
They defeated Gardiner Conference rivals Dundee Stars 4-2 at home on Saturday, but went behind through Justin Faryna before Tristan Harper equalised with a penalty shot.
Brett Switzer restored Dundee's slender advantage for the Tayside men, but Ben Davies' powerful drive drew the Clan level with Ric Jackman and Scott Aarssen striking to clinch the win.
Braehead moved along the M8 to face Edinburgh Capitals and again went behind before taking the points in a 4-1 win over the bottom of the table side.
Paul Zanette put the Caps ahead, but Alex Leavitt had levelled by the end of the first and put them in front with his second before Matt Keith and Chris Bruton sealed the points.
For the Caps, they are seven points adrift of the play-offs and what was a promising season has unravelled in the last few weeks, unfortunately.
Saturday night was another poor one for Riley Emmerson's side, who were crushed 7-1 by Fife Flyers in Kirkcaldy.
Trevor Gerling gave the Caps the lead, but Fife levelled through Shayne Stockton before Michael Dorr, Matt Delahey, Justin Fox, Ryan Dingle, Nicholas Rioux and Steven Gunn added more strikes for Fife.
Todd Dutiaume took side to Cardiff on Sunday to face the Devils, hoping to spring a surprise on the Welshmen, but a 4-1 defeat was the sum of their efforts.
Leigh Salters, Joey Martin and Guillaume Doucet put the home side three up and although Nico Sacchetti pulled one back, Andrew Hotham finished the job with Cardiff's fourth to claim the points.
Dundee Stars ended the weekend with a point as they were edged out by second placed Sheffield Steelers in a tight game that needed penalty shots following a 2-2 draw.
The Steelers were stunned in the eighth minute when the Stars nudged themselves in front, courtesy of a John Dolan goal.
Dundee dug in to protect their lead, but Sheffield's quality started to shine through in the second when Jace Coyle managed to get the better of home goalie Trevor Koenig.
Kevin Hart put Stars in front again, only for Levi Nelson to cancel it out for the visitors as both teams ended the game deadlocked at 2-2 before Nelson took the points with the Steelers' winning penalty shot.
WEEKEND RESULTS
Saturday
Braehead Clan 4 Dundee Stars 2
Fife Flyers 7 Edinburgh Capitals 1
Sunday
Cardiff Devils 1 Fife Flyers 4
Dundee Stars 2 Sheffield Steelers 3 (PS)
Edinburgh Capitals 1 Braehead Clan 4