Ice hockey: Worst week ever for Braehead Clan coach
By Craig Anderson
For BBC Scotland
Last updated on .From the section Ice hockey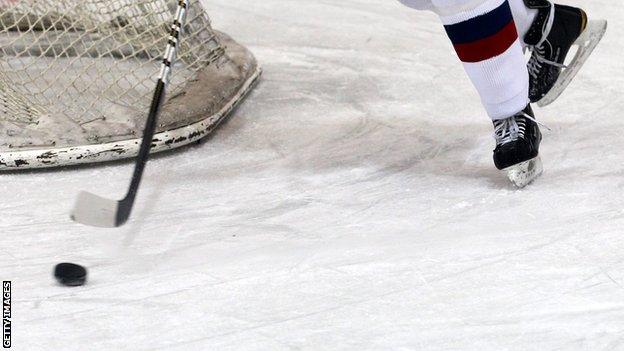 The worst week of his coaching career is how Braehead Clan head coach Ryan Finnerty has described it.
The Glasgow side's title hopes took a dent when they lost home and away to Manchester Storm, with six key players missing.
Clan's boss says he has never seen anything like, but he remains defiant after the setback over the weekend.
"This is probably the worst week of my coaching career in terms of the injuries we've sustained and it's taken a toll in the dressing-room," Finnerty revealed.
"That's not our team out there and that's five of our top nine guys that are missing through injury.
"No team can sustain that and we don't have the depth maybe other teams can.
"I've never seen a group where so many key players are out at the one time and it's tough to come back from.
"Manchester caught us at the right time, but we'll rebound. It stings, but we'll be back. We're far from dead and out of the race and we'll return with a vengeance.'
Captain Matt Keith, Scott Pitt and Matt Haywood are out for the foreseeable future, while Ben Davies was on Olympic qualifying duty with GB Men's team in Cortina.
Alex Leavitt was a later call-off, with suspected food poisoning, which meant a return to the ice for Finnerty's number two, Richard Hartmann, at the age of 40 and after 11 months out.
They beat Edinburgh Capitals 6-3 on Thursday, but the two defeats by Manchester stung as Clan failed to take advantage of their rivals' inactivity this weekend.
On Saturday, battered Clan went on the road, but it was a disappointing night as they went down 4-1.
Mathew Sisca, Luke Salazar and Omar Pacha put them three up before Neil Trimm pulled one back. Ricards Birzinsh finished an empty net goal to seal victory.
Back at Braehead on Saturday, while Clan were the dominant team, luck went against them as Manchester made it six wins in a row, scraping a 2-1 win.
A Ric Jackman thunderbolt gave Braehead the lead, but Storm levelled through Salazar before former Clan hero Derek Roehl scored with the winner in the first period.
If Storm are well within striking distance of the play-offs, one team that are not are Edinburgh Capitals, who are out of the reckoning bar the shouting.
One win in 20 and 15 points adrift of the top eight, one more loss will confirm Riley Emmerson's side as party outsiders yet again.
Their two games against Dundee Stars were almost identical as both were 1-1 after 40 minutes - then the Caps collapsed in the third period to give the points to the Stars.
On Saturday in Tayside, Edinburgh struck early through Trevor Gerling, but the Stars levelled through Doug Clarkson.
Riley Wetmore put the Stars in front early in the third period before Bobby Chaumont and Lou Dickenson struck to take the points.
Then, on Sunday, both teams traded goals early on again as John Dolan's opener for the Stars but was cancelled out by Gerling.
The Caps crumbled in the third as Curtis Leinweber, new signing Scott Brannon and Mikael Lidhammar all found the net to complete a four-point haul.
Fife Flyers and Coventry Blaze traded wins in their two matches this weekend, with Blaze winning part one 6-5 at the Skydome on Saturday.
Brent Walker and Kyle Horne netted for either team, as did Patrick Cullen and Jordan Pietrus, with both sides tied at 2-2 after the first period.
Coventry surged ahead though as Walker grabbed his brace, followed by Brett Robinson and Carl Lauzon, before Nico Sacchetti pulled one back for Flyers.
Cale Tanaka made sure of the points for the Blaze in the final minutes to end Fife's four-game unbeaten run, despite two late finishes by Shayne Stockton.
Then Stockton triggered Sunday's 4-0 win in Kirkcaldy, scoring after 23 seconds before Justin Fox, Ryan Dingle and Kyle Haines all struck to take the points.
RESULTS
Thursday
Braehead Clan 6-3 Edinburgh Capitals
Saturday
Coventry Blaze 6-5 Fife Flyers
Dundee Stars 4-1 Edinburgh Capitals
Manchester Storm 4-1 Braehead Clan
Sunday
Braehead Clan 1-2 Manchester Storm
Edinburgh Capitals 1-4 Dundee Stars
Fife Flyers 4-0 Coventry Blaze