Ice hockey: Fife Flyers on brink of Gardiner Conference title
By Craig Anderson
For BBC Scotland
Last updated on .From the section Ice hockey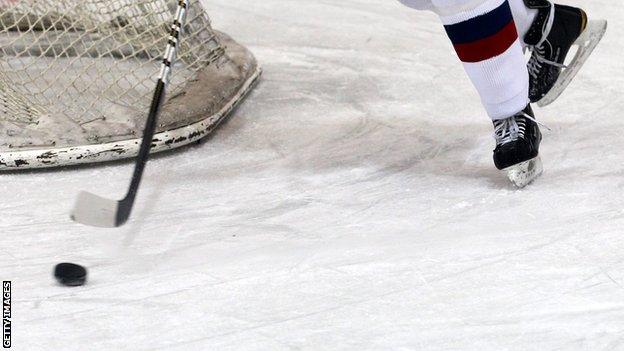 Fife Flyers captain Kyle Haines would love to see Manchester Storm do them a favour - after thumping them 8-2 on Sunday night.
Flyers need Manchester to beat Braehead Clan next week to clinch the Gardiner Conference title and confirm a high seeding for the play-offs.
But, after Clan won 2-1 at Dundee Stars to keep their own hopes going, Haines admits he'll be keeping an eye on other scores.
"After our game finished, we hoped Dundee Stars could help us out, but it didn't happen and we move on to next week," said the Flyers skipper.
"It was a great performance and now we're in a position where we're hoping Manchester can help us out when they play Braehead."
While Flyers have four fixtures left, they have no more to play in the Gardiner Conference against their fellow Scottish sides and Manchester Storm.
Braehead, on the other hand, have four all-Conference games and, if they won them all, would finish level on points with Flyers and would take the crown through regulation-time wins.
It's shaping up to be an excited end to the campaign and the Flyers bounced back well after going down 5-2 to title challengers Sheffield Steelers on Saturday.
Levi Nelson picked up the first two for Sheffield, with Fredrik Vestberg, Robert Dowd and Tyler Mosienko opening up a five-goal lead.
Fife hit back in the third period with two by Nico Sacchetti, but that was as much as they could muster.
While they didn't take the Conference on Sunday, they did qualify for the play-offs, thrashing Manchester Storm 8-2, as TJ Caig and Patrick Cullen put them two up.
Patrik Valcak pulled one back for Storm, but Flyers surged into a 5-1 lead as Caig, with his second, Shayne Stockton and Cullen's brace all found the net.
Michael Dorr added another before Sacchetti and Jeff Lee made the scoreline more emphatic in the final session, despite a late Paul Swindlehurst goal.
Clan picked up two more wins to move into third spot in the league, starting with a slender victory over Belfast Giants in Northern Ireland on Saturday.
Braehead took a two-goal lead as Brendan Brooks and Alex Leavitt struck, but despite a late Chris Higgins goal for Belfast, Ryan Finnerty's men held on for the points.
However, that Conference challenge is still on following the win over Marc Lefebvre's Stars in Tayside 24 hours later.
Jason Gray opened the scoring for Dundee, but Matt Keith and Marcus Gotz turned the game around to take the points, meaning Clan must win their last four games.
Edinburgh Capitals' weekend ended with two losses to Coventry Blaze and an administrative error that meant forward Ned Lukacevic could no longer ice for the club this season.
An attempt to renew his visa after the signing deadline in mid-February was denied due to changes in the rules, meaning Lukacevic's time with the Caps has ended prematurely.
As for the team, it was another couple of games to forget, starting with a 12-4 shellacking at Coventry, where they were 7-0 down after the first period.
Blaze got to 10 without reply before Edinburgh finally found the net as Trevor Gerling struck twice, but Carl Lauzon added Coventry's 11th.
Thomas Stuart-Dant added Caps' third with Nikita Kolesnikovs picking up another for Riley Emmerson's men, but the points had been settled long before.
Both teams came to Edinburgh on Sunday in a more closely fought affair, but again Chuck Weber's men claimed the points at Murrayfield.
Carl Lauzon and Brett Robinson put Coventry in front, but Garrett Milan and Sean Beattie levelled for the home team.
Another two from Lauzon and one from Chris Bruton put them 5-2 ahead, but Gerling and Stuart-Dant got the scoreline to within one before Bruton struck again late in the second.
Gerling picked up his brace to cut Coventry's lead to 6-5, but that was all they could muster as their season from hell gets closer to ending.
Weekend results
Saturday
Belfast Giants 1-2 Braehead Clan
Coventry Blaze 12-4 Edinburgh Capitals
Sheffield Steelers 5-2 Fife Flyers
Sunday
Dundee Stars 1-2 Braehead Clan
Edinburgh Capitals 5-6 Coventry Blaze
Manchester Storm 2-8 Fife Flyers