Ice hockey: Braehead coach warns players against complacency
By Craig Anderson
For BBC Sport Scotland
Last updated on .From the section Ice hockey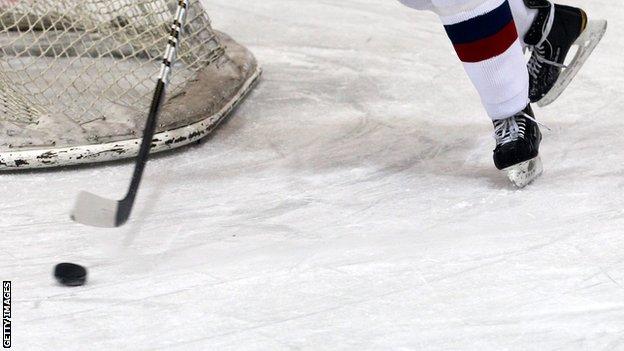 Braehead Clan coach Ryan Finnerty says he and his team have won nothing yet as their fight for the Gardiner Conference goes to the final weekend.
Clan just need to beat Edinburgh home and away next week to snatch the crown from Fife Flyers' grasp.
And Finnerty says he'll treat bottom of the table Capitals no differently ahead of next week's big double header.
"We're certainly not taking them lightly," Finnerty said.
Both Braehead and Flyers will finish on the same points, but Clan will have more regulation time wins that will decide the destination of the trophy.
"We haven't won anything so we intend to prepare the same way and treat Edinburgh with the same respect we treat everyone," said the Clan coach.
"We didn't look past this weekend and knew we needed to win both games before we even look forward to the last two games.
"In our minds, we knew this weekend would be make or break, but that's taking nothing away from what lies ahead with Edinburgh next week.
For Braehead, getting past Manchester Storm, who were still fighting for their play-off lives, was their immediate concern and they did it with relative ease in the end.
Scott Pitt had bagged a hat-trick inside the opening 11 minutes for Braehead and although Matt Davies pulled one back, Clan were 6-1 up through Neil Trimm and two from Matt Keith.
Matt Paton rescued another two for Storm in the third period, but Brendan Brooks' empty net and Pitt's penalty shot for this fourth of the night clinched an impressive 8-3 result.
In Altrincham it was a much closer affair and just when Fife Flyers thought Clan would have slipped up, it wasn't to be.
Matt Sisca and Vinny Scarsella put Manchester in front, despite Ben Davies pulling one back, but Thomas Nesbitt struck twice in the second period to put Braehead in front.
Grant Toulmin squared things off, but Clan came good in the third period with two from the captain Matt Keith and one from Marcus Gotz to seal the points in a 6-3 victory.
Fife Flyers, reduced to voyeurism after finishing their Conference schedule last week, entertained Nottingham Panthers in Kirkcaldy.
In the end they were sunk 2-1 in overtime by the recently crowned Challenge Cup winners despite Nico Sacchetti levelling Brad Moran's opener for the visitors.
Juraj Kolnik was the man to get the winner in the end as Fife's hopes of celebrating the Conference win were dashed by events elsewhere.
They can still dream of lifting that title, but even some of the fans on social media had conceded it was in Braehead's hands now, despite the games remaining.
While you should never take anything for granted in the Elite League, the fact that Edinburgh Capitals are all that stands in Clan's way for the Conference title doesn't bode well for Fife.
The Capitals were crushed in both their games this weekend is the latest chapter in a season to forget for Riley Emmerson and his men, who fell out of play-off reckoning some time ago.
Saturday's 10-2 shellacking at home, while another embarrassment for the Caps, saw opponents Dundee Stars confirm their play-off spot.
Doug Clarkson and Bobby Chaumont put the Stars up before Callum Boyd scored for Edinburgh. Mikael Lidhammar made it 3-1 by the end of the first period.
Sean Beattie picked up a second for the Caps, but Dundee steamed ahead as Scott Brannon, Chaumont, John Dolan, Kevin Hart and Curtis Leinweber all netted.
Chaumont and Clarkson bookended the scoring to take the result into double figures late in the third period as Dundee ran riot.
Back in Tayside on Sunday, it was even worse as a Justin Faryna hat-trick and two each from Lidhammar, John Dolan, Lou Dickenson and Ben Edmonds helped in a 13-2 romp.
Trevor Gerling and Tyler Plews were Caps' only successes as they get set to finish their campaign against an on-form Clan.
Weekend results
Saturday
Braehead Clan 8 Manchester Storm 3
Edinburgh Capitals 2 Dundee Stars 10
Sunday
Dundee Stars 13 Edinburgh Capitals 2
Fife Flyers 1 Nottingham Panthers 2 (OT)
Manchester Storm 3 Braehead Clan 6