Nottingham Panthers: Coach Corey Neilson hopes titles count towards new deal
Last updated on .From the section Ice hockey
Corey Neilson hopes his 11th major trophy as Nottingham Panthers coach will help him negotiate an extended stay at the National Ice Centre.
"There are a lot of great places out there, but this is has always been special to me," Neilson said.
"If they want me back, of course I will consider it. Hopefully, they recognise the things I've done."
Neilson spent seven years on the ice as a Panthers player, five of those as player-coach before going full-time as coach in 2013.
"I was privileged enough to wear the the jersey for so long, now I get to be in charge of the biggest club in the Elite League," the 39-year-old Canadian told BBC Radio Nottingham.
"Over the 10 years I feel we have had a great amount of success with championships and trophies that we are proud of."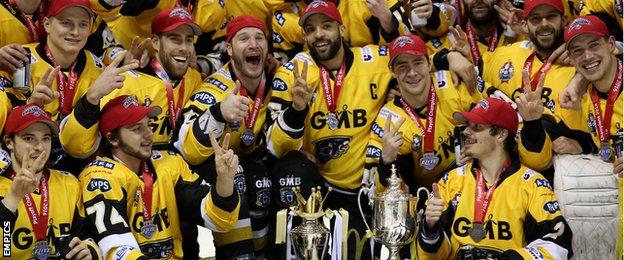 Last season was the only time is seven years that Panthers failed to win silverware, but they won their fifth play-off title of the Elite League era on Sunday.
"It's always a blast to be in your home rink and to be able to raise the trophy in front of all these great people that support us through thick and thin, high and low," Neilson added.
"Every game this year, these guys have given their hearts. They have not been great every single game, but they certainly gave everything they had. Ss coach, I could not be prouder."