Forward Layne Ulmer joins Cardiff Devils from Italian club Asiago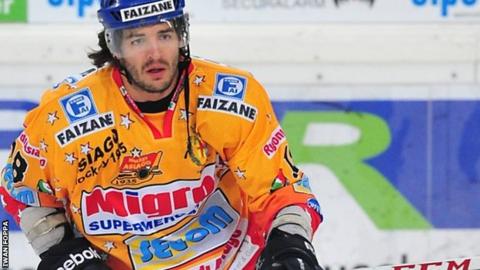 Cardiff Devils have signed forward Layne Ulmer.
Ulmer, who scored 31 goals last season for Asiago HC in Italy, joins Sean Bentivoglio in agreeing a deal at the Wales Ice Arena.
Ulmer and Bentivoglio have been teammates for the past five years in Asiago, winning two league titles.
"We wanted to add another top end natural centerman and Layne is the perfect fit," said Devils' player/coach Andrew Lord.
The Canadian duo become the Devils' 13th and 14th signings of a busy summer.
Brothers Andrew and Scott Hotham and defenceman Mark Louis have agreed to switch to Cardiff.
Matthew Myers, Luke Piggott, Zach Hervato and Chris Culligan also return to Wales.
Devils have also held on to Chris Jones, Jake Morissette, Ben Bowns, Mark Richardson, Joey Martin and Josh Batch.