BBC Sport - Elite League: Belfast Giants edged out in overtime by Cardiff Devils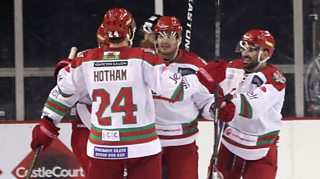 Giants edged out in overtime by Devils
The Belfast Giants lose a two-goal lead as they are edged out 3-2 in overtime by Cardiff Devils in their first Elite League home game of the season.
Steve Saviano and Michael Forney put the Giants 2-0 up, before Sean Bentivoglio replied late in the first period.
Andrew Hotham levelled for the Devils eight minutes into the final period and Patrick Asselin then hit Cardiff's winner in the third minute of overtime.