Elite League: Nottingham Panthers 1-2 Belfast Giants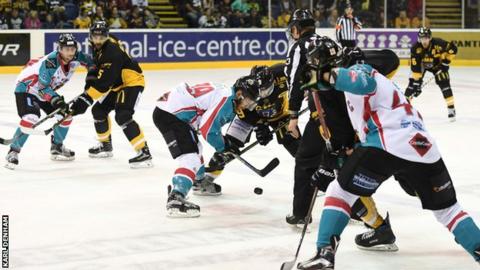 Belfast Giants completed a weekend away double in the Elite League with a 2-1 overtime win against Nottingham Panthers on Sunday.
Blair Riley followed up his two goals in Saturday's 4-1 victory over Coventry Blaze by netting the overtime winner at the National Ice Centre.
Michael Forney gave the Giants a seventh minute lead before Matt Carter equalised six minutes later.
Riley scored the decisive third goal with 1:54 remaining in overtime.
The four-point weekend was made all the more impressive with the Giants missing David Rutherford, Chris Higgins and Alex Foster for both games while James Desmarais was absent for Sunday's encounter.
Murphy in top form
Stephen Murphy started in net and turned away 19 shots in a stellar performance for the Giants.
Just like the previous night in Coventry, it was the Giants who got on the scoresheet first.
Jeff Mason unleashed a shot at Panthers netminder Miika Wiikman, who made the save only for Forney to pounce on the rebound to give the Giants a 1-0 lead at 6:12.
The visitors outshot the Panthers in the opening period 7-5 but it was the home side who got the next goal in the game to tie things up.
Defenceman Dan Spang's shot on net was deflected off Carter to bring the Panthers level at 13:27 and end the period at 1-1.
The next two periods were scoreless before Riley won it with an assist from Forney.
Belfast return to the SSE Arena for back-to-back games against Coventry on 21 and 22 October.